When we post on Reddit, sometimes we delete that Ceddit Featurepost. Here we think that the post we delete is deleted forever, but this is not the case. That deleted post is still present in the database.
In this blog, we will discuss how to read deleted Reddit posts and comments by different users. We will discuss how to read the deleted post in multiple ways. You can now easily recover the post you have bookmarked as deleted and can't find it.
Information about Reddit
Reddit is used by people in many communities with endless conversations. It is the platform for thousands of people and communities with endless conversations.
It does not matter which topic you were discussing; you will get every driver community on Reddit for you. If you are the person who wants to view deleted Reddit posts and comments, then you are at the right place. Don't worry; your Reddit posts and comments can be recovered with the help of third-party websites.
Why does Reddit delete your posts and comments?
There are many reasons you are not seeing your Reddit post on your feed or in a different community. Sometimes, you are violating or spamming Reddit policy, and there might be a chance your post or comment will be deleted.
So for safe surfing, Reddit is always up to date and deletes spam posts or comments. However, if your post or comment is deleted, there are different ways to revive it. We will discuss all these things in detail in this post. It is to note that many subtraded and credit communities have different moderators and policies through which they have the right to delete the specific post and comment on Reddit.
This thing is necessary for maintaining the integrity of the community. Prominent reasons why your Reddit posts are deleted. There are some common reasons why your Reddit posts and comments are deleted.
Sometimes, Reddit flags your posts or comments and puts them under the category of irrelevant or spammy posts per comment. Sometimes, the user account is not available on Reddit.The moderators delete your post or comments due to different policies and guidelines violations.Now, we will discuss how to read the deleted Reddit posts.
1. Removeddit
If you are looking for deleted posts on Reddit, Removeddit is a popular website. This is an old website and helps you recover different Reddit posts and comments. Now, you can read your deleted comments and post in different ways with the help of Removeddit.
Step 1
First of all, visit the Removeddit website and visit the particular post you want to revive. After getting the post, select the URL.
Step 2
Then remove the Reddit word from the URL and replace the Reddit word with Removeddit. By going for this URL, you will see the post and all the already removed comments from the single post.
You can also see the removed comments and the deleted comments when you put this URL. You will find the deleted and removed Reddit comments when you scroll down.
The question arises of how you can distinguish the removed comment and the deleted comments. The removed comments come out with a red background, whereas the deleted comments come out with a blue background. In this way, you can easily understand which type of data you want to retrieve.
URL Example
1st

2nd
2. Ceddit
Ceddit is the same as Removeddit, with which you can easily retrieve all the deleted posts and comments. Ceddit also helps you in achieving the same results. The good thing about this platform is that it is similar to Removeddit.
Normally, this platform can retrieve most deleted comments from the system but not fully recover them. The reason is that some comments may get deleted before this website can cache them.
Step 1
First of all, go to reddit.com, then select the post, and click on the particular URL.
Step 2
Then just like before, remove the Reddit word from the URL and replace it with the ceddit. After putting in the URL, you will get a new page where you can easily check for the deleted comments from Reddit.
URL Example
1st
2nd

3. Un-delete Reddit comment extension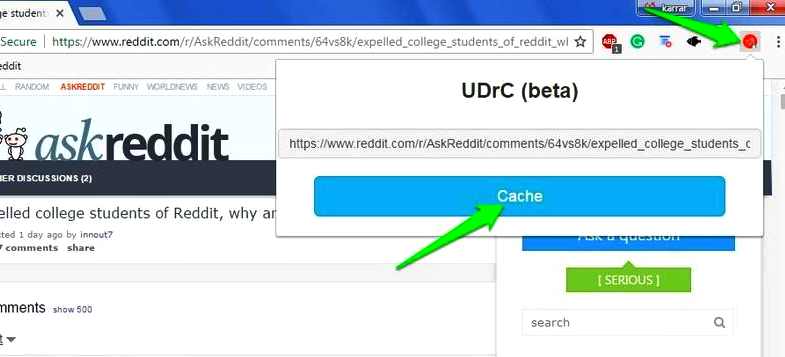 You can also use the undeleted Reddit comment extension with which you can easily cache Reddit posts and open them later. Using this extension, Google easily indexes to cache the Reddit pages in your browser.
This Chrome extension is a little bit different than other platforms. The difference is that it will not recover the deleted post and comments on Reddit. You can save or store your favorite articles from Reddit and read them later.
With this extension, all your Reddit posts are cached to view later. Now you can save all types of comments even if they get deleted later. However, with this extension, you will not recover already deleted comments. But still, this is a powerful tool, especially if you manually cache every important discussion.
First of all, open the Reddit post you want to catch and click on the extension button. The extension will give you the URL with a big cache button below. When you click on the particular button, the page will appear.
But surprisingly, you can also recover the saved page after clicking on the extension button later. If you want to install and use the undeleted Reddit comment extension, follow the steps below. First of all, visit the Chrome extension store and click on add Chrome.
For the next popup window, click on the Add extension button. Then visit reddit.com through this extension and select the post you want to archive or cache.Then click on the undeleted Reddit comment icon given on the Chrome extension bar.
Here you will see the big Blue button named cache. When you click on this cache button, you will automatically cache the page on your browser.
4. Resavr
Resavr is also a great tool for reading removed Reddit comments. It is to note that it only extracts and saves the deleted comments, which are 650 characters or more.
If the comments are more than 650 characters, they might have a good piece of information hidden. When you retrieve this type of information, it helps many people view that information.
How to view deleted comments on Reddit using Resavr?
You can easily view the deleted comments on Reddit with the help of this platform by visiting their home page. Here you can see all the recent top comments. You have to just write the post title in the search box given at the top right side corner.
A comment tab is also introduced, with which you will get all the recently deleted comments from the platform. Not only the comments, but the platform also shows you the data of character length, and when the post is deleted, that is the time and the date.
Most surprisingly, you can also utilize this information on the way back machine's website to explore more about the given post.
Frequently asked questions
For how much time does Reddit keep deleted posts?
Normally, when you post on Reddit, you might think it remains there forever. The reason is that even after deleting your account, all of your content, along with the username, is replaced with deleted.
However, your content remains there forever. I also discussed that many websites retrieve Reddit data. So when you delete or remove any comment or post, it does not mean that it's gone forever; it remains there.
What happens to a deleted post on Reddit?
When a user deletes his post on Reddit, nobody else can see it. Normally, it is deleted from the thread where it was posted or from the user history. However, the post and the comment remain on the site and are only accessible to the Reddit admin.
So only the Reddit admin has the opportunity to see that deleted post in the archive on their server. If you want to reply to the post or comment, you can read this article on how to get that.
Final Words
Reddit is considered a big platform where all types of information are shared and discussed in the form of comments. We have discussed how to display deleted posts and comments in this post.
Through the above-listed websites, you will be able to get all your deleted posts and comments in very little time. Not only the website, but you can also retrieve the deleted post in comments through different Google Chrome extensions.
I hope your problem will be solved by reading this post. Still, if you have any ideas related to the topic, you can post them in the comment section.