Stop losing valuable users because of a complex and overwhelming onboarding process—use Tour My App to create simple and effective in-app tutorials instead. With Tour My App, you can see how users are interacting with your app so that you know what areas need improvement.
What is TourMyApp?
TourMyApp is a tool that helps you improve user engagement by displaying in-app guided tours. These tours can help users perform tasks in your web application, and can be used to show a "getting started" tour when they log in for the first time, or to highlight advanced or unused features when the time is right.
How Does TourMyApp Work?
Once you have signed up for an account, you can add your web apps to the TourMyApp dashboard. You can then create a tour, which is essentially a series of slides with accompanying text and images. The Tours tab on the left-hand side of the dashboard lets you see all the tours you have created and edit them if necessary. To create a new tour, simply click the 'Create New Tour' button.
You will then be prompted to enter some basic information about the tour, such as its name and description. Once this is done, you can start adding slides. For each slide, you can add text, images, and even videos. You can also choose where each element appears on the slide and how long it remains visible. Once you are happy with your slide, simply click 'Save & Continue.
Features of TourMyApp
Whether you're a first-time user or an experienced pro, they can help you get the most out of your app experience with the powerful features. Here are some of the things their app offers:
Content Creation: The content creation tools make it easy to create beautiful, informative tours that guide users through your app's features and functionality. You'll be able to engage and educate your users with ease!
In-App Training: Use their in-app training capabilities to educate users on how to use your app, highlight advanced features, and more. With the easy-to-use tools, you'll be able to create custom training experiences that pack a punch!
Multi-Language: Their app supports multiple languages, so you can reach a global audience with your tours. No matter where your users come from, they can help you connect with them!
Some More Important Features:
Customer support: TourMyApp offers amazing customer support. They are always willing to help out their users, and they offer a wide range of solutions to problems that might arise.
Easy and ready-made onboarding solutions: TourMyApp makes it very easy to get started with its platform. They offer a wide range of tutorials and how-to videos that make it simple to understand how the platform works. Additionally, they offer ready-made onboarding solutions that can be implemented with little effort.
Interactive animations: The animations on the platform are top-notch. They help bring the content to life and make it more engaging for users. Additionally, they help add a touch of fun to the platform that makes it more enjoyable to use.
Return on Investment: The return on investment for using TourMyApp is fantastic. The company offers a variety of plans that allow users to save money while still getting access to all the features and benefits that the platform has to offer.
Benefits of TourMyApp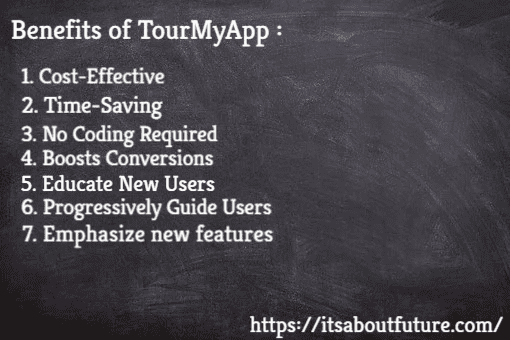 If you're looking for a way to take your app development business to the next level, then you should consider using TourMyApp. This powerful platform provides several benefits that can help you succeed.
Cost-Effective: TourMyApp is a cost-effective solution for creating product tours. There is no need to hire expensive developers or designers. With TourMyApp, you can create a professional product tour on your own, without breaking the bank.
Time-Saving: Creating a product tour with TourMyApp is quick and easy, so you won't waste precious time on complex technical tasks. With our platform, you can focus on creating content that will engage and convert your visitors.
No Coding Required: With TourMyApp, there's no need for coding skills or knowledge. Our platform is designed for non-technical users, so anyone can create a beautiful product tour without any hassle.
Boosts Conversions: Product tours created with TourMyApp have been shown to boost conversions by up to 20%. By guiding users through your product or website, you can help them understand its value and increase the likelihood that they'll make a purchase or sign up for your service.
Educate New Users: When users first come to your application, they spend a few minutes looking through it. If they don't find out how to complete their tasks, then they leave forever. A TourMyApp allows you to give them a guided tour of the features and benefits of your app so that they can see how everything works and how it can help them before they even start using it.
Progressively Guide Users: Some apps are complex, with many features directed at different levels of users. You don't want a new user to get lost or confused, but you also want them to explore your advanced functionality. With TourMyApp, you can create progressive tours that will guide users step-by-step through the most important parts of your app so that they can learn how to use it at their own pace.
Emphasize new features: Facebook, Google, and many other large web companies are increasingly using onboarding tours to highlight new functionality for their users. If it's good enough for them, it's good enough for you! With TourMyApp, you can easily create tours that highlight the newest features of your app so that everyone can see what's new and improved.
PROS And CONS of TourMyApp
Pros:
With TourMyApp, you can create content easily and without any headaches-perfect for when you need to whip up marketing materials or ads in a pinch.
Not only is its onboarding solution easy to use, but it's also readily available so that you can get started with your tour as quickly as possible.
Lastly, they provide in-app training and support for all of our users in case you need help along the way. This way, you don't have to waste time searching for answers online or struggling to figure things out on your own.
Cons:
Building out time needs to be improved to increase productivity.
Difficulty in navigating and finding products can lead to frustration and a loss of potential customers.
The Top 5 TourMyApp Alternatives
If you're in the market for tour management software, TourMyApp is a great option. However, if you're looking for alternatives to TourMyApp, there are several other options worth considering. Here are five of the top alternatives to TourMyApp:
1. Minerva
If you're looking for an easy way to share instructions for anything on the internet, Minerva is a great option. With Minerva, you can capture and share instructions quickly and easily – without the need for screenshots or red arrows. This makes it a great choice for customers, colleagues, or for training purposes.
2. JumpSeat
JumpSeat offers a modern approach to adoption that research shows are 92% effective in reducing software errors. With JumpSeat, learning a new application is easy and painless—meaning that every major organizational initiative can be successful. It is another alternative to MyTourApp.
3. Whatflix
Whatfix is the most trusted digital adoption platform globally. It helps enterprises and Fortune 500 companies drive software adoption, reduce time to launch, increase employee productivity, and see a positive software ROI. Whatfix is rated 4.8 by Gartner Peer Insights—making it the perfect choice for businesses who want to improve their software productivity.
4. Verloop
If you're looking for an alternative to TourMyApp, then Verloop.io is worth checking out! They offer a state-of-the-art conversational AI that is secure, scalable and offers complete visibility into your customer support operations. Plus, it can help reduce operational expenses and save you time and money in the long run.
5. Chameleon
Chameleon is the best way to help new website users onboard and get familiar with your site. By creating customized product tours and surveys, you can ensure that every user has a great experience from the start. Chameleon is also simple to install, with low code requirements or through integration with JS Snippet, a Google Tag Chrome extension, or Segment.
Final Thoughts
Overall, TourMyApp is a great tool that can help improve user engagement and performance within your web application. It is easy to set up and customize and provides valuable insights through tour analytics.