If you want pocket-friendly tech deals and products such as MS Office Pro 2021 or a wireless charging pad, StackSocial is the best place.
StackSocial offers deals on various tech products, such as software, courses, gadgets, and more. It gained popularity by providing exclusive discounts on authentic products. However, some people find it difficult to trust this website and raise questions about its legitimacy.
In this blog article, we will explore everything about StackSocial, including its products and pros and cons. We will also tell you whether it is a legitimate website or not.
What is StackSocial?
StackSocial is an online platform for tech enthusiasts. It offers a digital product and service marketplace focused on technology-related deals and bundles. The platform partners with various developers, creators, and companies to curate and sell these deals to their users. 
The company is based in Venice Beach, Los Angeles, California. It was founded in 2011. Karl House is the new president, and Don LeBlanc is Stack's chief executive officer (CEO). It is an all-in-one website that provides lifetime deals, modern gadgets, online courses, software, and much more.
Overview Of The Products And Services Of Stacksocial
StackSocial is where you can find various products, including software, digital subscriptions, tech gadgets, bundles, and more. The website has products and deals for everyone; that's the reason for its popularity. Here are some details about the products and services of StackSocial: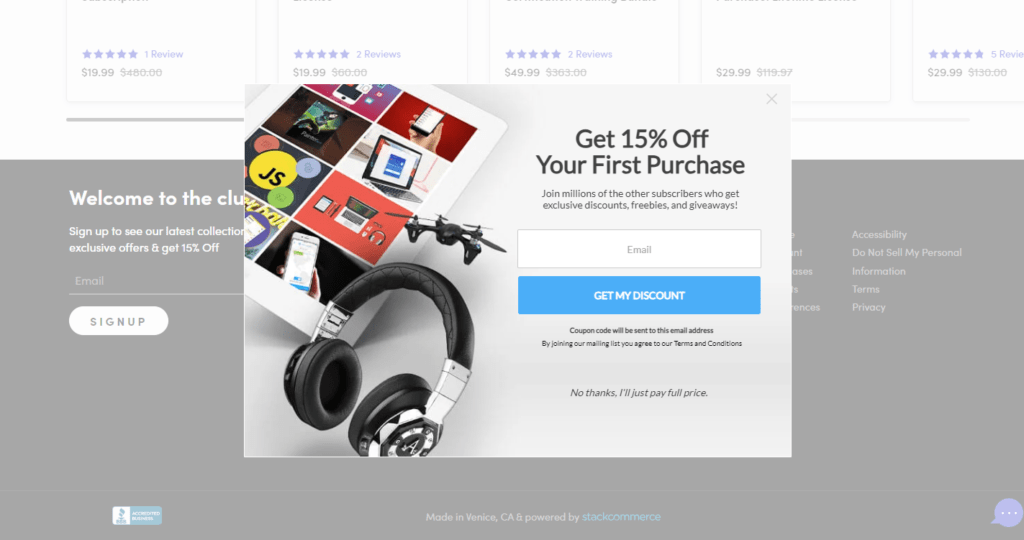 Digital Software and Applications
StackSocial can provide you with software and applications at cheap prices. You can purchase backup and storage software (Degoo Premium) and business apps (MS Pro 2021). Furthermore, educational apps (Speakly), security apps (Sticky Password), and leisure apps(Karaoke On Demand) are also available.
Online Learning Courses
Users can also purchase online courses from StackSocial. It has multiple courses such as Business and Finance, IT and security, Languages, Personal Development, and more.
Tech Gadgets And Accessories
StackSocial is renowned for selling Electronic goods. Almost every product is available, including Computers, Connected Devices, Gaming and toys, Sound, and Tablets. It is a hub for tech gadgets.
Digital Subscriptions
You can subscribe to many platforms using StackSocial. These include a Costco 1-year membership, Dollar Flight Club Premium Plus, and Sam's Club membership.
Ebooks and Digital Media
StackSocial is a website where you can find anything you want. It also sells eBooks such as The Complete Cybersecurity eBook Bundle.
Web Hosting and Domains
If you want a cheap website hosting and domain plan, StackSocial can offer Bonohost and iBrave cloud Web Hosting subscriptions at budget-friendly rates.
Creative and Design Tools
StackSocial can provide the latest creative and design tools, such as Designs.Ai, Resume Builder, and Taskio.
VPN Services
Paid VPNs are typically expensive, but StackSocial offers them at reasonable rates. You can subscribe to Fastest VPN, RealVPN, VPN Unlimited, and Surfshark.
Lifestyle And Health Products
StackSocial is not limited to tech products. It also provides Beauty accessories, Health & Fitness, Home decor, Kitchen goods, and more. These products include Uvilizer Tower, Soluxe comfort heating bed, seven-day pill case, etc.
Is Stacksocial Legit?
People are usually confused about the legitimacy of StackSocial because their discounts and deals are too good to be true. Although, it is a legit website. Customers have been trusting StackSocial since 2011, which proves its legitimacy. However, some people give bad reviews about their experience because the authenticity of the individual products and services they offer can vary. Buyers should do complete research about each product or service before buying it.
Enhanced Security Protocols at StackSocial
StackSocial is conscious of the customer's security and privacy. It takes several strict measures to protect its user's privacy. The website's privacy policy section details how StackSocial uses and collects customer data. Additionally, all payments are processed by an encrypted connection. Stacksocial has also invested in fraud prevention technology to detect and prevent illegal activities.
The Pros Of Stacksocial
Buying deals and products from StackSocial has many benefits. Here are the following:
High-Quality Tech deals
StackSocial offers exclusive high-quality tech deals. Customers can find deals on reputable products, such as VPNs, cloud storage, productivity tools, and more.
Lifetime Subscription
Some deals on StackSocial provide lifetime subscriptions, which means you can enjoy the product's benefits without paying recurring fees.
Discounts And Coupons
The website also gives discounts and coupons, lowering the price further. These coupons are a great option for budget-conscious tech enthusiasts.
User-friendly Website
StackSocial has a user-friendly website, making navigating and purchasing deals easy. You can search for products by keywords, categories, or filters, such as price, rating, or popularity.
Product Details
Users can view detailed information on Stacksocial about each product, such as features, specifications, reviews, and FAQs.
Loyalty Program
The platform also has a loyalty program for customers. They can earn points by purchasing products, which can be regained for discounts on future purchases.
Secure Checkout Process
Stacksocial has a secure checkout process, accepting several payment methods such as credit cards, PayPal, or Apple Pay.
The Cons Of Stacksocial
StackSocial also has some drawbacks that users should be aware of before purchasing. Here are the following:
Misleading Deals
StaclSocial may have low-quality or misleading deals unworthy of money or risk.
Vendor Issues
The quality and reliability of products can vary depending on the vendor. Some vendors or providers may have poor customer service, slow delivery, or no refund policy.
Specific Requirements of Deals
Some deals may have expiration dates, activation codes, redemption instructions, or other requirements that users should follow to access or use the product.
Customer Reviews of Stacksocial
The majority of customer's feedback is positive about StackSocial. However, some have complaints regarding the expiry of the subscription or hidden charges.
Ratings On Scam Advising Websites
Here are some of the ratings of StackSocial on different websites:
User Feedbacks
Many people on Reddit give positive feedback about StackSocial, saying that they purchased a lifetime subscription to MS Office, and it's working properly. You can also find several good reviews on the original StackSocial website below the products.
In contrast, StockSocial has many negative feedbacks on Quora. The user had a negative experience with Stack Social, accusing them of being scammers. They purchased Microsoft Office from Stack Social, but it did not work because other customers had used the activation codes. Despite reporting the issue, Stack Social provided another link and code that failed to activate the software. The user claims Stack Social refused to refund their money and describes them as thieves, liars, and crooks. He warned others against buying from Stack Social due to the risk of stealing their money.
Tips For Safe Shopping On Stacksocial
Online shopping on any platform is a bit risky. So, you should follow these tips to purchase anything from StockSocial and avoid scams or fraud.
You must be careful before buying products with low ratings, negative reviews, or unclear terms and conditions.
Stay away from the services claiming to offer unrealistic benefits or results, such as hacking tools, get-rich-quick schemes, or miracle cures.
Research the vendor or provider of the product before buying from StackSocial. If the vendor has a bad reputation, do not buy their products.
Check the reviews of vendors and providers on other platforms such as Trustpilot, Reddit, or social media.
Always check the compatibility and availability of the product with their device or system.
Review the privacy policy and terms of service to ensure they do not compromise their personal or financial information.
Related Articles,
Final Thoughts:
StockSocial is a website that offers various products and services. Users can browse through categories such as apps, software, gear, online courses, bundles, and more. They can find everything for their personal and professional life. It is a legit website because it has many trusted customers. However, you should read all the details and reviews of the product before purchasing. Some products may not work as advertised, have hidden fees or limitations, or be incompatible with certain devices or systems.