Have you ever wondered how diplomacy, global affairs, and international relations unfold right in the heart of a city? KACMUN might be your answer. It is an after-school program where young minds come together to explore, discuss, and shape the future. KACMUN, short for Korean American Coalition Model United Nations, is not just a program; it's a journey of discovery. If you're curious about KACMUN and how it plays a vital role in empowering the next generation of global leaders, you're in the right place.
What Is KACMUN?
KACMUN, or the Korean American Coalition Model United Nations, is an engagement program for school students in Los Angeles. In this program, students recreate UN meetings at conferences that are held all over the country. KAC MUN allows talented young individuals to discuss complex global issues, from climate change to international security.
It is a Model United Nations (MUN) conference designed for students to have a realistic experience of how the United Nations functions. It's where individuals play the roles of world leaders, and their passionate discussions give innovative solutions.
The program runs from September to May each year. MUN virtual meetings are conducted once a week. However, onsite MUN conferences are conducted on the weekend. This flexibility attracts students to this program because they can also participate in other activities while enrolled at KAC MUN.
Mission Of The KAC Model United Nations (MUN) Program: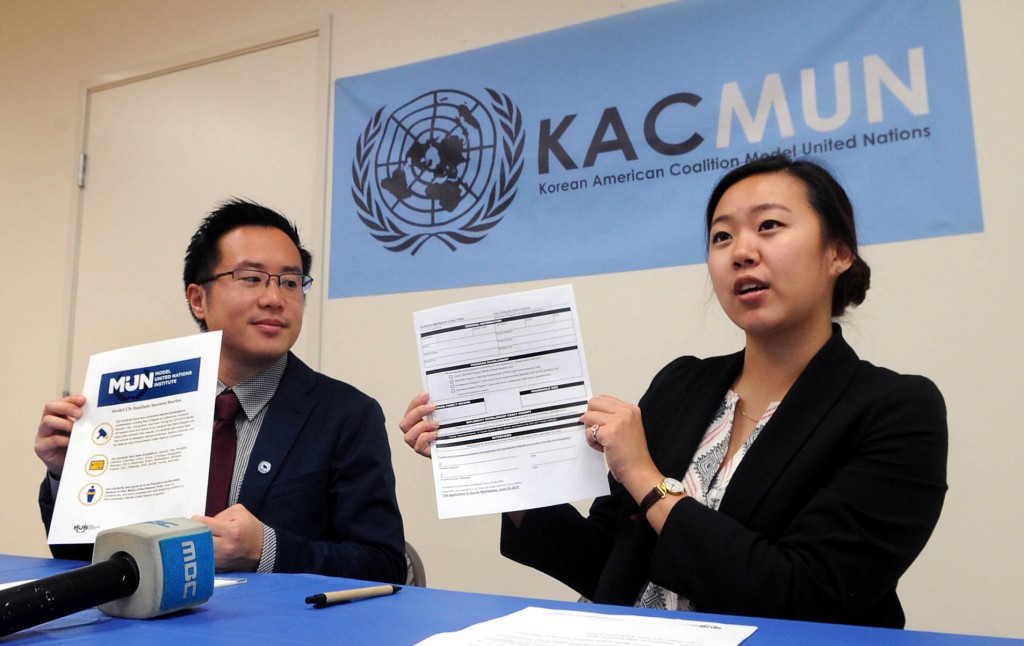 The mission of the great KAC Model United Nations program is to motivate the next generation of Korea and America. The young generation usually stays away from international matters. They do not listen to news about global affairs, which results in a lack of knowledge. KAC MUN aims to educate them about global issues and increase their critical thinking. It will benefit the Korean and American nations because the young students are future leaders.
How To Apply For The KAC Model United Nations (MUN) Program?
Eligibility:
If you want to apply for the KAC MUN program, first see whether you are eligible or not. The eligibility criteria of MUN are simple:

Middle school students entering 8th grade.
High school students 9th to 11th grade.
12th-grade students only if they are returning.
2023-2024 KACMUN only accept application from Southern California students.
Fill Out The Form:
If you are fulfilling the criteria of eligibility, you can apply by visiting the official website of KACMUN. Here are the simple steps for this:
Visit the KACMUN website.
Click on the "APPLY HERE" button.
Fill out the form.
Submit a Recent Transcript and ONE Reference.
Write short response questions of 300 to 500 words count.
Fees:
When considering participation in KACMUN, you must understand the fee structure. Early Bird Applicants can benefit from a reduced one-time program fee of $135, while Regular Applicants pay a program fee of $150. Additionally, there is a monthly fee of $75 collected during the first week of each month to support ongoing educational activities. You must know that participation in specific Model United Nations (MUN) conferences may incur additional fees.
Furthermore, KACMUN wants to give everyone a fair chance to participate in the program. Thus, need-based financial assistance is available for qualified students. It makes this valuable educational experience accessible to a wide range of students.
Benefits of Joining KACMUN
Students can benefit a lot from joining KACMUN. Here are some of them:
1. Opinion Sharing:
Being a participant in KACMUN will give you the confidence to share your opinion on different perspectives. It provides opportunities to discuss your perception of various international affairs.
2. Negotiation Skills:
KACMUN gives you real scenarios of international diplomacy where you can practice and enhance your negotiation skills. By participating in KACMUN, you will develop valuable skills that you can apply in various professional settings, such as conflict resolution, business negotiations, and diplomatic engagements.
3. Increasing Knowledge:
Normally, middle and high school students stay away from any serious news. But, by participating in KACMUN, they increase their knowledge about what is happening in this world.
4. Critical Thinking:
The conferences help young leaders enhance their critical thinking, which will help them in the future. This program puts students in situations where only critical thinkers can succeed.
5. Effective Communication:
Every person has different opinions and perspectives, and we must learn to respect them. KACMUN students learn this at a young age because they deal with people of different mindsets. They know how to communicate without hurting someone else feelings.
6. Networking Opportunities:
More than 500 students participate in the KACMUN program yearly. It gives students networking opportunities that will help them in the future. University professionals and other leaders also attend this program as a judge or supervisor. It gives exposure to students and opens doors to future internships.
7. Learning Leadership:
KACMUN enhances negotiation skills, critical thinking, and communication skills. All of these are required to be a good leader. Students' leadership skills are highly improved during the conferences.
8. Cultural Interactions:
The program is for both American and Korean students, which gives them an opportunity to explore each other's cultures. It decreases racism in our society by giving them a platform where a variety of cultures come together.
9. Time-Saving:
Most of the conferences of KACMUN are virtual, which saves time. Students can get frustrated through the travel time, but KACMUN provides virtual sessions that solve their problems.
10. Budget Friendly:
If we compare the fees of KACMUN to other education programs, it is budget-friendly. But for the middle class, it is still unaffordable. Therefore, it also provides financial aid.
How Does KACMUN Empower Students?
KACMUN empowers students by providing them with a place where they can confidently express themselves. The students in this program assume the roles of diplomats, engage in debates and collaborate to address real-world problems. It's a dynamic environment where your children can learn to understand the nuances of international politics. In addition, these interactions can sharpen their negotiation skills and experience the responsibilities of a global citizen.
KACMUN is a bridge between theory and practice. It connects students to global issues and improves their ability to think critically and communicate effectively. It has gained popularity among high school students because of its unique learning criteria.
The Success Of KACMUN Students
KACMUN students are succeeding in their educational journeys. They are getting admission to known universities such as Princeton, Stanford, etc, and also getting hired by famous companies for internships. These students competed in the 48th Yale MUN Conference in January 2022. Four students won individual awards among more than 1,500 participants. They prepared for two months before participating in the Yale MUN conference. That's not all; they also attended 16.6 hours of committee sessions for four days. KACMUN increases the dedication and consistency of students, which will help them in the future.
Tips For New KACMUN Students:
If you are a new student of the KACMUN program, here are some tips you must follow:
Do Practice:
In this conference, you must prepare yourself to debate by practicing. If you are not practicing enough before discussions, your speech will have flaws.
Professional Attitude:
Your professional attitude will leave a good impression on seniors. Be punctual, and do not get involved in anything that destroys your reputation.
Stay Confident:
In these meetings, you will face hundreds of students, but you must be confident to speak in front of them. If you show a lack of confidence, no one will be interested in your opinion.
Ask Questions:
You are there to learn, so you must ask questions to your seniors and supervisors. They appreciate this attitude in KACMUN.
Final Thoughts:
KACMUN, or Korean American Coalition Model United Nations, is an amazing initiative of the US government. It has benefited the students for many years and made them prepared to become future leaders. The program allows students to recreate UN meetings, which enhances their skills in negotiations, communication, and critical thinking. You must enroll your children in this program if you want a bright future for them.