Are you thinking about buying from Veuem.com? Stop right here because you must know everything about this online store before spending your money. Veuem is a website that claims to sell various products at unbelievable discounts.
But, many customers are complaining about their experience. In this article, I will give a detailed Veuem review, and you will know whether it is legit or a scam. Stay in the loop with me!
What is Veuem.com? Is it Legit?
Veuem.com is an online shopping store selling different car-related accessories. It provides free shipping worldwide. The platform has many flaws, which raised questions about the website's legitimacy. While this store may seem like a good deal at first glance, it's better to be safe than sorry when protecting your finances and personal data. Here are some of the factors indicating that the website is a scam:
Veuem has a different domain name, "Mypassioncharm."
The prices of products are too low.
Social media icons mentioned on the website are not linked to any account.
The "About Us" page does not share relevant information.
It has only a 1% trust score on Scamadviser.
All of these facts are a major red flag and prove that Veuem.com is a scam.
User Experience and Interface
The Veuem website is easy-to-navigate and has an attractive theme. User experience is satisfactory because this website is responsive on every device. The website's design is sleek and modern, with separate sections for everything.
Product and Service Offerings
Veuem sells only 11 products on its website with free delivery and many discounts. Here is the list of those products:
Car Anti-collision Strip(Set of 4 PCS)
Two Pcs Car Rear View Mirror Rain Eyebrow Visor
Magical Car Ice Scraper
Multifunctional Car Pocket
Multifunctional Car Seat Organizer
Leather Car Neck Headrest
Car Ceiling Storage Net
Adjustable Car Suction Cup Phone Holder
Magic Cleaning Soft Gel
Multifunction Foldable Car Rack Step
Wiper Restorer
Veuem.com Reviews: Pros and Cons
Finally, let's review Veuem.com by discussing its benefits and downsides.
Pros:
The design of Veuem's website is simple and easy to use.
It offers incredible discounts.
Products from this website offer everyday use benefits.
Veuem.com has SSL certificate.
Note: Customers are not sharing any more positive aspects about this website; they are complaining about their experience.
Cons:
You will not find any customer feedback below products.
The trust score of Veuem is low on every website scam advisor's website.
Unresponsive email address.
The return and exchange policy is applicable 14 days after buying the product.
No contact information or business address is provided on the website.
Only eleven products are posted.
Veuem's website is only one year old.
The featured image is of jewelry, but the products are car related.
Things to Consider Before Shopping from Veuem.com
If you are considering shopping from Veuem.com because you are intrigued by the discounts, you should consider the following things:
Lack of Safety and Security Measures
The absence of safety and security measures on veuem.com raises concerns about data protection, privacy, secure payment processing, encryption protocols, and user account security, indicating potential risks of fraud and scams.
Customer Support and Communication
Veuem.com has poor customer support service. Users complain that they never get a reply on time. Apart from this, the communication skills of their customer agents are awful and unsatisfactory.
Pricing and Payment Options
Prices are reasonable at Veuem compared to other stores, which leads to the doubt of scams. Some products are always on flat discount making it suspicious. The payment option is only through a Master or Visa card. People are more comfortable paying through Paypal.
No Trustworthiness and Reliability
Veuem has a lousy reputation in the market, which lowers its credibility. Customer feedback is the most important thing to attract new customers, and Veuem has no ratings or feedback. The term and conditions of this website are also shady.
Scam Membership and Hacking of Credit Card
Be cautious of veuem.com's scam membership offers and potential credit card hacking risks. Protect yourself from fraudulent activities by exercising vigilance and ensuring secure transactions to safeguard your financial information.
Top 5 Alternatives to Veuem.com
After reading its reviews, you must have changed your mind about shopping from Veuem. Therefore, I have curated a list of genuine online stores that offer incredible discounts. Here is the list of the top 5 alternatives to Veuem.co:
1. Amazon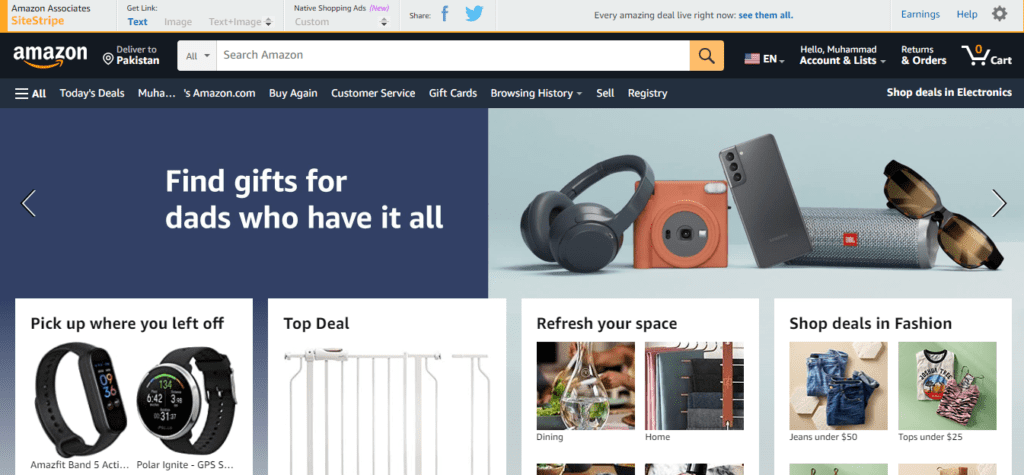 Who doesn't know about Amazon–one of America's best and most trustworthy e-commerce stores? It sells products to more than a hundred international countries. This website gives you discounts on millions of products. In addition, Amazon has a 100% trust score on ScamAdvisor, while Veuem has terrible reviews on every website.
Amazon's website design is perfect compared with Veuem, with seven different languages for non-native customers.
Link: https://www.amazon.com/
2. eBay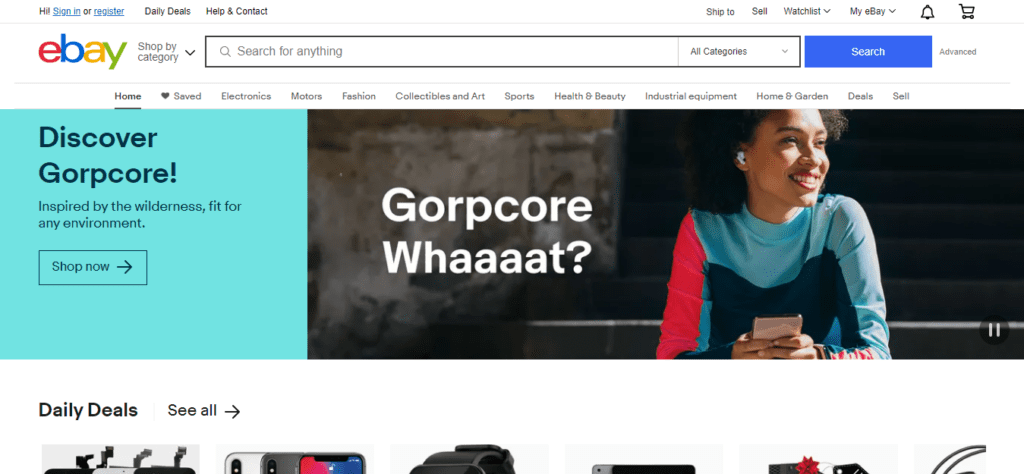 eBay is a multinational online store based in California. This platform sells all products, including electronics, cars, fashion, and sports. eBay has a section called "Daily Deals," which shows the best daily deals. The legitimacy of this website can be estimated with age; it was founded 28 years ago. In contrast with Veuem.com, eBay has thousands of Car accessories with a guarantee of the product.
Link: https://www.ebay.com/
3. Walmart
Walmart is an online retail company that manages a chain of supermarkets in the United States. You can find various products from health and fitness to custom cakes. Walmart's services are mind-blowing and give users many benefits. Compared with Veuem, this online website offers exciting deals on reliable products. You can also take a membership of Walmart+ which will benefit you a lot. Whereas, Veuem gives you zero benefits.
Link: https://www.walmart.com/
4. Best Buy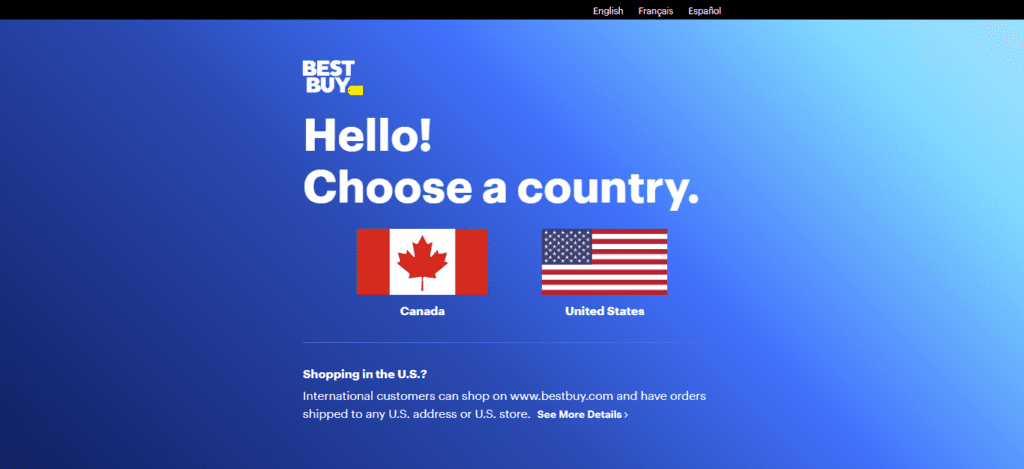 Best Buy is another safe alternative to Veuem. The platform offers electronic gadgets such as mobile, smart TVs, smartwatches, computers, keyboards, headphones, and earbuds. Best Buy offers free shipping on orders worth $35 or above. One of the best things about Best Buy is the discounted price on expensive products that will save you money. It is the best website to buy tech-related products.
Link: https://www.bestbuy.com/
5. Target
Target is also an online store based in America. This website sells groceries, furniture, electronics, and much more. Target also sells clothes and accessories starting from 12 dollars. It is one of the largest retailers in the US. Unlike Veuem, Target is available as a mobile application for the convenience of customers. Whether you're on the go or simply prefer to shop from the comfort of your home, Target's mobile app makes it easy to browse and purchase all your favorite products with just a few taps on your phone.
Link: https://www.target.com/
You may also like to read
What is SDMC Webnet? How To Use? How to login? Best Guide
Roofing Contractors for Professional Roof Installation or Repairs
Making Employee Training Fun: How to Keep Learners Engaged
Conclusion
Veuem is an online store providing many random products, especially car-related ones. Several factors, such as domain and website name differences, lack of contact information, and safety, highlight that this website is not genuine. After reading the Veuem review, you know that it is fooling people with its fraud; you should protect yourself from it.
If you want to shop from online stores, you have many other reliable options, such as Walmart, Amazon, and Best Buy. That said, pick up your phone and start buying reliable products from the top 5 genuine alternatives to Veuem.