Buffstreams is an online live-streaming portal that has gained significant popularity among sports fans due to its free live streams for major sporting events such as NBA, MLB, NFL, boxing, MMA, UFC, and NHL. It is crucial to remember that Buffstreams is an unauthorized streaming service, and using it has several hazards and possible criminal activity.
Despite being popular with millions of sports fans, using Buffstreams to obtain live sports broadcasts is dangerous. First, users are subject to potential legal repercussions for copyright infringement because the website operates outside the parameters of authorized streaming services. Authorities and rights holders closely monitor such unauthorized sites and take appropriate action when necessary.
Additionally, Buffstreams puts consumers' internet privacy and security at risk. The site is more prone to hosting unwanted ads, malware, and phishing attempts since it relies on unauthorized sources for streaming material. Sports fans must know these dangers and consider legitimate alternatives while streaming their favorite sporting events.
Let's continue reading this article to learn everything there is to know about Buffstreams!
Buffstreams as a Free Sports Streaming Site
Buffstreams began as a free sports streaming website and has since become the most popular illicit live sports streaming platform globally. It provides a wide range of sports streaming connections, allowing viewers to watch live sports competitions for free.
While it may appear enticing to browse streams on Buffstreams without thinking about copyright concerns, it is critical to understand that doing so constitutes copyright infringements. Users that utilize Buffstreams are engaged in the unauthorized sharing and watching of copyrighted content.
Bufferstreams copyright infringements and potential risks, such as malware
Engaging in such copyright infringements is fraught with danger. Users cannot download the broadcasts or have any legal relationships with them. Furthermore, there is a substantial risk of encountering malware. Users may be exposed to harmful software by visiting the site or engaging with its content, which may compromise their devices and result in financial losses if repairs or replacements are required.
In short, Buffstreams is an unlawful live sport streaming website that offers free access to copyrighted content. However, users should be informed that using this platform violates copyright and exposes them to the danger of viruses and device harm. Therefore, looking for legal and authorized alternatives to streaming sports material is advised.
Available sports on Buffstreams
Buffstreams' owners recognized the desire for live sports streaming outside the NFL, NBA, and UFC as the site grew in popularity. As a result, they expanded the website's capabilities to include a wide range of sports.
BuffStreams is well-known for its extensive live sports streaming service, covering almost all sports. Users may browse various alternatives on the Buffstreams website before picking their chosen live sport to watch. Buffstreams tries to provide versions of these events, whether AFL, MLB streaming, free sports, or other live stream broadcasts. However, it is vital to recognize that access to these streams may come at a cost.
While Buffstreams provides the ease of watching many sports from a single platform, it is important to consider the legal and safety ramifications of utilizing an illegal streaming service. Investigating legal options, such as authorized sports streaming companies, guarantees a safe and legal method to enjoy a diverse choice of sports material.
Buffstreams: A Popular Live Sports Hub
Buffstreams grew in prominence by providing a wide range of live sports, covering nearly every major athletic event. The website's proprietor kept the information current, assuring customer happiness and making Buffstreams a go-to platform for sports fans. The website offered live feeds for a variety of sports, including:
Basketball (NBA):
The NBA is North America's top professional basketball league and one of the most popular sports leagues in the United States and Canada.
Soccer/Football:
Also known as association football, this sport is organized globally by FIFA and is extensively followed by followers worldwide.
The NFL (National Football League):
A professional American football league with entertaining games and devoted fans.
WWE/UFC/MMA:
Boxing and martial arts talents are showcased in combat, wrestling, and fighting sports.
Motor Sports (Moto GP/F1):
Exciting races involving motorized vehicles, such as MotoGP and Formula 1.
Tennis:
A racket sport played singly or in pairs, pitting players against each other in high-stakes contests.
Rugby:
A fast-paced, athletic sport where two teams compete to win points by moving an oval-shaped ball.
Boxing:
A sport where two people compete in a contest of strength, ability, and strategy while wearing protective gloves.
Golf:
A club-and-ball sport where players strike balls into a sequence of holes, requiring precision and strategy.
Darts:
A game where participants shoot sharp-tipped darts at a circular target to demonstrate precision and attention.
How to Stream Sports with Buffstreams?
Buffstreams is the greatest sports streaming software, allowing you to watch various sports such as cricket, football, baseball, and more. You may watch your favorite sporting events live with a smartphone and an internet connection.
The app provides a smooth streaming experience and was recently upgraded to function with the newest Android Pie operating system. Its simple UI makes navigating a breeze, and features like Chromecast integration, Facebook Live, and Twitter Direct Message sharing options improve the streaming experience.
Buffstreams, a main website active for around three years, has recently expanded its streaming services to cover various athletic events such as the NFL, NBA, boxing, MMA, and many more. With Buffstreams, you can watch your favorite sports wherever and anywhere.
Safety concerns with Buffstreams
Deceptive and Harmful Links on the Site
Despite its large selection of sports links, using Buffstreams is strongly prohibited owing to various safety issues. The offered links may be deceptive, providing a risk of injury and malware infection. Users may unwittingly expose their devices to harmful software, compromising their personal information or causing damage. Furthermore, these sites frequently route visitors to fake websites to persuade them that their systems have been compromised.
Potential for Malware and Fake Websites
These sites frequently route visitors to fake websites to persuade them that their systems have been compromised. When the visitors are routed to these fake websites, they are then prompted to download or install software claiming to remove viruses, further perpetuating the risk of malware.
Notifications and their Associated Links
Another source of worry is Buffstreams' alerts function. Users are prompted to allow permission for notifications, but if granted, these messages frequently direct users to untrustworthy websites or push them to download and install harmful software. Interacting with these warnings may expose consumers to extra dangers, such as data breaches or virus exposure.
Given these safety issues, it is critical to investigate safer options for streaming sports material devoid of such threats. Prioritizing authentic and authorized platforms offers a safe and pleasurable streaming experience that does not jeopardize device security or personal privacy.
Top 18 Best Alternatives of Buffstreams
The risk of compromising your streaming devices is always significant if you continue to utilize possibly risky free streaming websites. It is why reputable and paid sports streaming TV providers are always the go-to platforms for sports enthusiasts who want to watch major sports without danger or difficulty. A few of them are mentioned below:
1. Kayo Sports: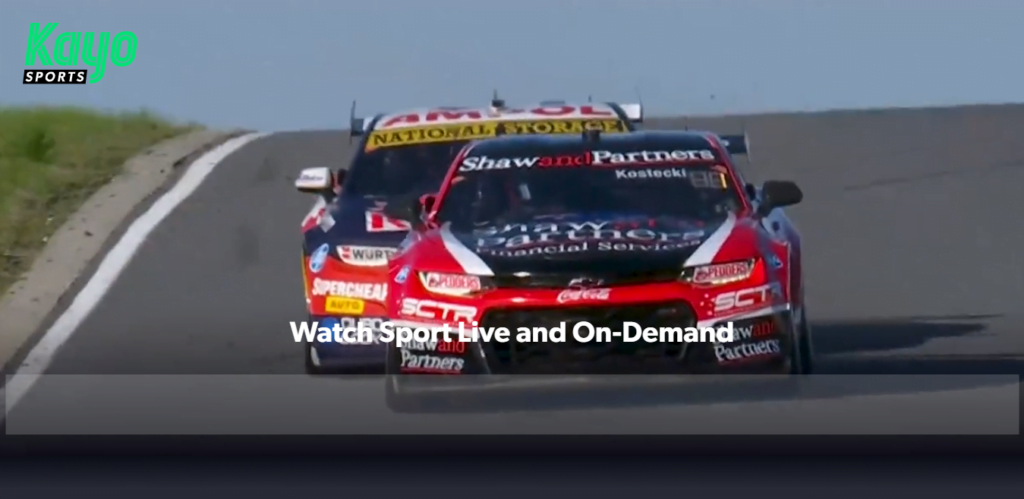 Kayo Sports is a streaming service allowing consumers to watch over 50 sports weekly from their homes or while traveling. Kayo Sports also offers live and on-demand access to all your favorite sports in high definition, both live and on-demand.
Link: https://kayosports.com.au/
2. NFLBite:
NFLBite is a free live sports streaming site and one of the greatest alternatives to Buffstreams. It is a popular web page on reddit.com that provides sports fans with links to their favorite games. Streamers may post connections to live sports, and fans of various sports can locate the right link to their favorite game. 
Link: https://www.nflbite.com/
3. Optus Sport: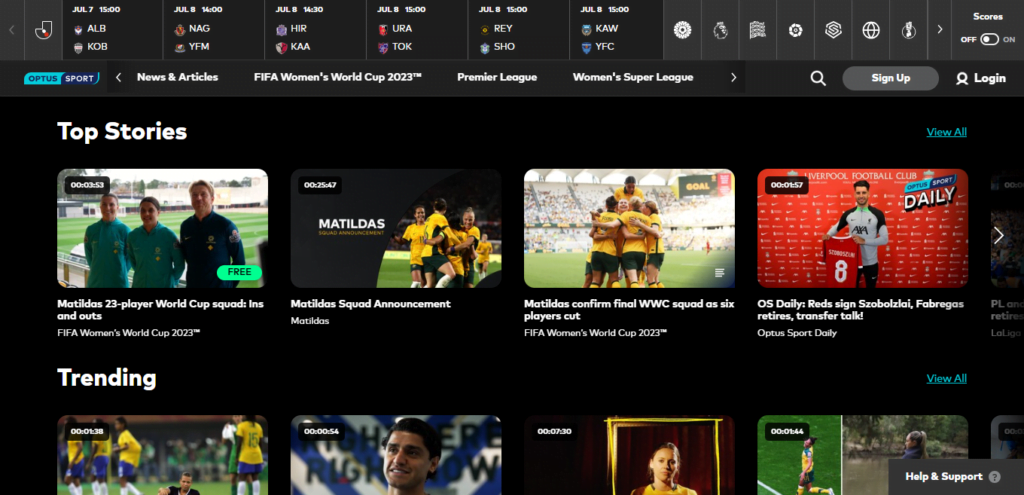 Optus Sport entered the sports streaming sector in 2016 with the rights to the English Premier League, one of the world's largest attractions to this day. Previously, the service was only available to Optus mobile and broadband customers. Still, it has now been expanded to allow a wider variety of clients who pay a monthly or yearly fee.
Link: https://sport.optus.com.au/
4. VIPBox:
VIPBox, like Buffstream, is a popular free live sport streaming website among sports fans. Even if the website offers free material, it is still authentic, and you may watch live sports without any problems.
The website provides direct access to international sports such as Boxing, Tennis, NFL, Snooker, and many more. Use the website on practically any device to quickly discover your favorite sports sites. VIPBox free is also available in a limited number of countries, but only with a subscription. 
Link: https://www.vipbox.lc/
5. Fubo TV:
FuboTV, a streaming service largely focused on soccer-related programming, debuted in January 2015. The website was developed to provide American football enthusiasts access to live matches and exclusive content from well-known football leagues worldwide.
Fubo TV's programming library has been developed to provide various sports and entertainment alternatives. Its network selection currently includes well-known networks such as ESPN, NFL Network, NBA TV, and MLB Network, transforming it into a full-service sports streaming service.
Link: https://www.fubo.tv/welcome/geoblock
6. NBA League Pass:
If you want premium service and more fun/features in your sports streaming experience, the NBA League Pass is the way to go.
It is one of the greatest Buffstreams alternatives and may improve your sports streaming experience even more. You may watch your favorite sports on the website from anywhere globally without fear of legal repercussions. A full league pass costs $199 and includes access to more than 40 NBA games. You may download sports and watch them in your favorite language here. 
Link: https://www.nba.com/watch/league-pass-stream
7. SportLemon: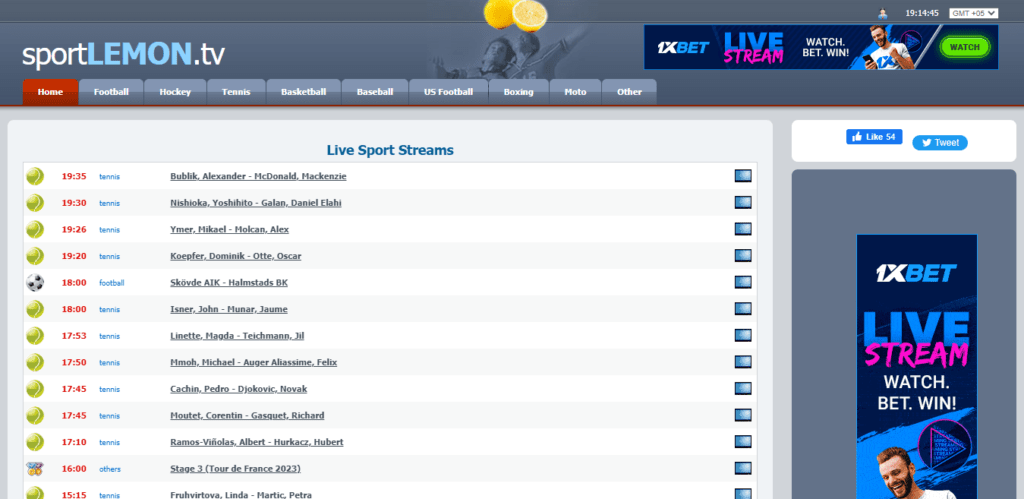 SportLemon is an alternative to Buffstream, which provides free live streaming of various sports events worldwide. With its user-friendly layout and high-quality streaming choices, the website draws sports fans worldwide.
Link: https://sportlemons.net/
8. ATDHE Streams:
ATDHE streams is a free live sports streaming platform with large popularity. The site is responsive and features an easy-to-use interface. The service gives users links from other streams to global sports and has over 250 live sports to watch.
Link: https://atdheeu.eu/
9. BossCast:
Bosscast is a top free sports streaming site similar to Buffstreams, which streams live sports from different sources. Because of the coverage's wide range, locating the stream you're looking for is usually possible.
The website has a chat component that lets visitors exchange text, media, and links. A scheduling system guarantees you never miss your preferred athletic events or live broadcasts.
Link: https://bosscast.eu/
10. Cricfree:
Cricfree is one of the sports streaming sites for cricket lovers. You will undoubtedly find everything connected to cricket below. Once you pay a monthly membership fee, you may watch the exact same match that you see on television. You may watch popular sports stations live right here as well. Cricfree is a free streaming website where you can watch your favorite sports.
11. LiveTV:
The LiveTV website broadcasts video games as well as sporting events. You may access live sports streaming links or channels without spending any money. But the website offers more than simply free streaming. You can access betting, fans' clubs, results, broadcasts, video archives, and live scores.
12. BatManStream:
BatmanStream offers streaming connections for various sports and is one of the top free Buffstreams alternatives. Indeed, of all the websites on our list, BatmanStream provides the most sports. Additionally, it covers a wide range of unique activities, such as e-sports, handball, fencing, and equestrian.
Link: https://batmanstream.watch/
13. Crack Stream: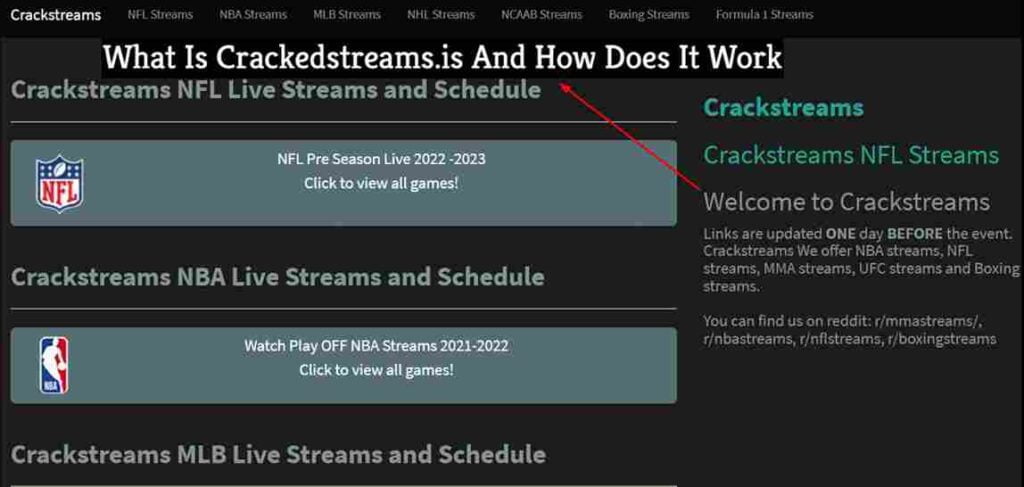 The CrackStream is an ideal website to get premium sports material without registering or becoming a member. One of the most well-known sports streaming services, it gives you access to various sporting events and contests regardless of your time or place.
You can access boxing, basketball, soccer, or American soccer by choosing from several different sports categories. You can gain access by just clicking on the provided links.
14. BilaSport:
On Bilasport, one of the greatest buffstreams alternatives, you can view various live sports connections. There is a tonne of sports-related material on this page. It is one of the top locations in the Middle East to watch live sports. There are several live sports connections on this website from Asia and Europe. For its coverage of the NBA and MotoGP, this website is well-known.
Link: https://bilasport.to/
15. WiziWig New:
This free application lets you watch the concerts live from anywhere worldwide. So, besides sports like football, tennis, and rugby, this website also allows you to watch cricket matches. The website with an online streaming center lists all the video games, including those you are familiar with and others you are not. This is one of the greatest alternatives to buffstreams, yet most of the time, it is considered to be even better.
Link: https://wiziwig1.org/
16. Social442:
Another of the top sites, like Buffstreams, is Social442. Yes, you may watch any game currently in progress online without seeing any pop-ups or commercials. Additionally, you may register and interact with other users here; it functions like a social media network geared towards football fans.
Link: https://www.social442.com/
17. Feed2All:
Another website that provides free access to top-notch sports material is Feed2All. The sports material may be simply streamed without costing anything. This service's fantastic collaboration with several well-known live sports stations and streaming platforms is one of its best features.
Link: https://feed2all.org/soccer
18. CBS Sports:
CBS Sports is the finest. One of the top sites to replace Buffstream is FootyBite. Its user interface (UI) is simple and intuitive, with minimal advertising. Sites that offer live sports feeds, movies, and news as alternatives to paid sports streaming services. It includes NFL, NBA, Football, MMA, NHL, and NCAA sports.
Link: https://www.cbssports.com/mobile
Conclusion
While Buffstreams has grown in popularity due to its numerous live sports streaming options, it is critical to prioritize safety and legality while viewing such information. The hazards of illicit streaming services, such as misleading links, viruses, and potential device damage, make it prudent to seek authorized alternatives.
Investigating secure and legal streaming providers that provide consistent access to live sporting events is critical. Sports enthusiasts may play their favorite games without compromising their gadgets or falling prey to fraudulent activity using authorized platforms.