Journey through college is not all games and partying. Sometimes schedules can be pretty choking. But since college is a fantastic experience, Some of the social activities you can indulge in include volunteering as a group, sports, and parties. College dorm parties are held at dormitories or students' residences and occur mostly at night.
This blog will teach you how to conduct a dorm party reasonably.
What is a Dorm Party?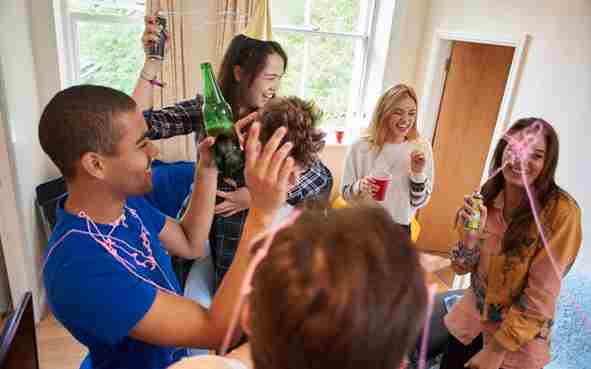 A dorm party is a party thrown by students for their college fellows in dorms. These parties have a very subtle yet eye-catching environment where you can enjoy, dance, sleep, vibe to the music, take Instagram worthy pictures, and remove stress by doing what you like.
We can throw a dorm party by arranging a few things that make anyone enjoy the party, such as arranging a wall for pictures, updating a good music playlist, making party invitation templates, arranging a bar setup, and making the room tidy and good to go for a party.
How can You Plan a College Dorm Room Party?
Planning a college dorm party can be attractive to make dorm party gif too so that you can attract more of your friends and family. You can choose specific ideas for decoration and games to be held at your dorm party. For this, you can have a bunch of friends to help you plan your dorm party with you.However, there are certain things that every party should have, and they include,
Good music: The best idea is to spend a bit on the DJ because they can keep the party going with beautiful music.
Even if the plan is to get a live band or a singer, make sure to get a good one.
Snacks: A party without snacks is an excuse for starving people. You don't have to go overboard. Some bags of chips, popcorn, and a couple of drinks are fine to keep your foodie audience entertained.
Permission to Use the Intended Location: You should have a proper plan on where you want the party to be held and make sure all the papers are signed, if necessary then concerned authorities and owners of the location.
What's Allowed At a Dorm Party in College?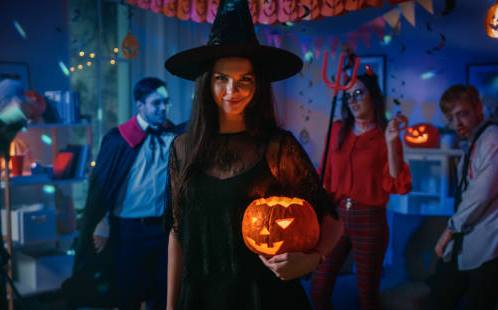 You should remember certain things that are permitted and prohibited at college dorm parties.
Permitted Things at College Dorm Party:
Socialize
Play games
Enjoy on music
Listen to your friends' stories
Take pictures
Drink but in a limited amount
Prohibited Things or the Things that You Should Keep in Mind:
Always watch your drink or make your drink
Know your alcohol limit
Always bring a condom or condoms in your bag
Don't walk alone
Help others if you find someone in danger
Best Themes for College Dorm Parties
New and innovative ideas can help you gather more people at your party and make your party successful. Here are a few ideas for the themes you can go through
● Trousers Party
This theme helps you feel relaxed the entire time. You don't need to wear painful heels or tight dresses to enjoy; partying on the verge of your comfort zone is the perfect idea
● Jazz Night
it's all about celebrating the incredible music and culture with the genre. For this, you should just create a Spotify playlist and play your favorite music, and jam on it
● Ugly Sweaters Party
In this, you just have to find your least favorite knits and wear them to the party.
● Sexy Nerd Party
The sexy nerd party combines two entirely different themes, creating a mix of funny and proactive themes. Half of the audience goes according to one theme and half according to another one.
● Rock N Roll
In this party theme, you go off the board by becoming extra and embracing yourselves like that. You can wear ripped jeans, heavy eye makeup, a joker costume, and rock your way out there.
● Denim Themed Party
You make your costume denim-like. You wear denim jeans, denim jackets, and everything possible to your extent.
● Halloween Party
Halloween party is one of my personal favorites in which you make yourself scary like a ghost or an alien or a nun and haunt people at the party.
● Black and White Theme
It is one of the beautiful themes for a college party, and you just make everything look like that in the 90s and enjoy a beautiful background, dress, heavy lip colors, and loose pants.
Best Ideas for College Dorm Party
These parties can be made attractive in several ways.
1. Interesting Themes
As discussed before
2. Games and Activities
● Cards against humanity
● Beer pongs
● Don't get got
● Wheel of odds
● You laugh, you drink
● Fear pong
● Drunk, stoned, or stupid
● Buzzed blocks
● Betting games
● Twister ultimate
3. Menu
The exciting menu can help attract your foodie friends to your party. You may add exciting options such as
● Hamburgers
● Buffalo wings
● Veggie tray
● Fruit kabobs
● Root beer float
● Taco dip
● Bang bang shrimp
● Spinach artichoke dip
● Frozen lemonade
● Jalapeno popper wonton cups and much more.
4. Decoration Ideas
● Interesting banners
● Candle holders and their placements
● Food art
● Aesthetic bar area
● Comfortable zone for private talks
● Decorated table
● Furniture and it is matching with the theme
● Backdrop
● Scented candles
● Floral centerpieces and much more
FAQ's
What's My Craziest Thing in the College Dorm Party?
The most favorite thing is none other than good food and good company with a good vibe and smell. In my opinion, if you want to make your party stand out, you should know how to satisfy your fellow mates. Some people like certain things such as good music and wine parties. Your decision and your choice should be according to the people accompanying you.
What are the Tips for Parents Attending Dorm Party Night?
At this age, children usually ignore their parents' suggestions. If that's the case, be aware that a variety of schools and universities allow alcohol in dorms, provided that it's moderately consumed and is consumed in the presence of students 21 years old or older.
Just know they will be drinking and partying with their fellow mates, so be more accepting. Just make them know the legal dose they can take as excessive intake of it can harm them in multiple ways. They should also be notified of how they can escape if some mishap happens.
Final Words
You have already been told about the ideas of how you can make your college dorm party enjoyable. All you need to know is to party hard but work harder. Partying shouldn't distract you from your actual goals. Some of these ideas might be new to you. It's up to you which ideas you choose to make your party worthwhile.