Creating unique and beautiful art is always challenging for artists. Sometimes they just got frustrated because the final results were not what they had imagined. After spending hours on one canvas, with paint on their hands and clothes, they must wonder how to make their art easily without any hurdles.
Wombo brings good news for all artists by launching "Dream by Wombo", an Ai art-generating tool. This tool can change traditional art creation methods; I am truly amazed by this app. You must imagine a creative idea; this tool will do everything for you.
Stay tuned if you want to know more about "Dream by Wombo", how it works and the pros and cons of using this Ai art tool.
What is Dream By Wombo?
Wombo developed a lip-syncing app in 2021 and got popular with that app. This Canadian firm has launched another mind-blowing Ai tool that can create art by using text prompts to create original images. You can access Dream by wombo on the website or download it on your iOS or Android smartphone.
Now you don't need to buy brushes and expensive paints. You need to grab your mobile phone and start creating a stunning piece of art in a few minutes.
How Does It Work?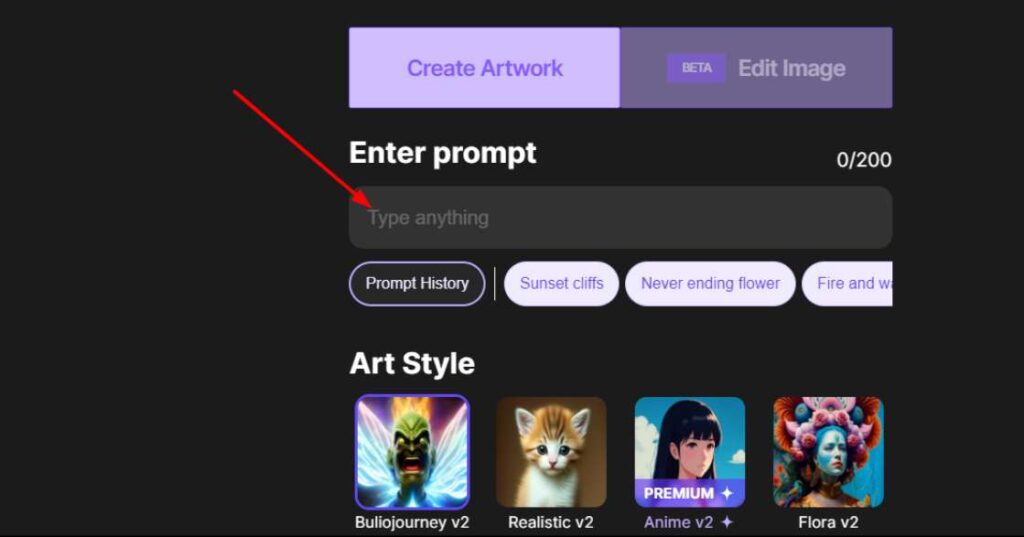 Dream by Wombo uses OpenAi's developed CLIP algorithm to generate images from text. CLIP is an open neural downloadable connection which matches the images to text by discovering patterns in data. Simply put, this tool analyses the text instructions and corresponds it to the collections of images found on the internet. After analyzing the vision datasets, this tool creates a unique unrealistic art that can blow your mind.
How to Use Dream by Wombo?
Follow these simple steps to use Dream by wombo and develop something aesthetic:
You can download the dream wombo app or visit its website.
Sign in to your account; although it is not compulsory, it will give you many benefits,
Type in whatever you want in Enter prompt section; the word limit is 200 only.
Choose an art style such as; anime v2, flora v2, realistic v2, buliojourney, VFX, spectral, festive, comic, unrealistic, winter and much more.
You can also edit your image by uploading it on their website(give instructions such as "fire on everything,"
Generate your art within 5 minutes,
If you are unsatisfied with the final results, you can recreate or edit them,
You can also share your Ai generated art directly from here,
Finally, download the image in jpg format and save it to your mobile or computer.
You can select the "buy print" option if you want the art in printed form. You cannot use this feature for free.
Subscription of Dream by Wombo
Anyone can use this amazing application, wombo Dream, free of cost, but subscribing to a premium account will give them numerous advantages. It offers three premium packages:
Premium Annual $89.99
Premium Monthly $9.99
Premium Lifetime $169.99
Reasons for Buying Premium Account:
Access to exclusive Discord role.
Unique and exclusive art styles at your fingertips,
Your image will generate faster,
Without a premium subscription, you can only create one art at a time, but with a premium account, you can make four art at the same time,
You will give one text prompt and receive three different options for it,
Downloading your art in video format.
Reviews of Dream by Wombo
10 million users trust "Dream by Wombo". Customer trust can only build through good reviews; this Ai tool has much positive feedback, which will promote it more.
Dream by wombo is Google's best overall app for the year 2022.
4.3 stars rating on Google Play Store,
4.8 stars rating on App Store,
Christopher Schulte, a verified buyer, said, "This is a lot of fun. And the price is amazing. It's normally a monthly or yearly subscription. This is the real deal. It's legit and works."
Alternatives of Dream by Wombo
Many applications or softwares available that give the same results, like Dream by Wombo, but still, this app snatched all the spotlight with its special features. Some of the top competitors of Wombo are the following:
Dell-E2:
OpenAi developed Dell-E2 in 2021; this tool has over 1.2 million users. Dell-E2 is a model that generates digital images by text.
Midjournery:
It is an independent research lab-created software that generates text-to-image art. You cannot only use it if you have an account on Discord.
DiffusionBee:
DiffusionBee is an app for "Stable diffusion" that will help you create beautiful art on Mac. "Stable diffusion"' is also an Ai generator for art; you can create 1000 images daily.
Artbreeder
Artbreeder, formerly called Ganbreeder, is a machine learning-based art website. This website allows users to modify any images or paintings with the help of artificial intelligence. Artbreeder uses the models StyleGAN and BigGAN for modifying images.
Pros of Dream by Wombo
There are many benefits of Dream by wombo. Here are ten potential benefits of using an AI tool like Dream AI to generate art from the text:
Creativity Boost: The Dream AI app helps users generate personalized artwork using prompts. This stimulates creativity and imagination, which leads to new ideas.
Time-Saving: This Ai tool will save the time you normally spend manually creating art.
Accessibility: Dream AI allows anyone to create beautiful and professional-looking artwork, regardless of their artistic ability.
Customization: You can customize your art using different styles and themes.
Branding: Business owners can also use Dream AI to create visuals for their marketing and branding.
Versatility: It can create various art forms, such as logos, illustrations and videos.
Accuracy: This AI tool uses advanced algorithms to translate text into visual elements accurately, ensuring the resulting artwork is faithful to the original text.
Consistency: It can generate consistent artwork across multiple images that will unify your brand identity.
Cost-Effective: Hiring a graphic designer or buying expensive painting tools is costly. This app will save you the amount.
Fun and Enjoyable: You can experiment by creating different artwork and have fun doing it.
Cons of Dream by Wombo
Nothing is perfect, and everything has some flaws in it. Here are a few cons of using Dream by Wombo:
Advertisement: Ads on the website will disturb you a lot.
Lack of Personalization: It works on a general algorithm, so it will not give you the exact personalized result you have in your mind.
Dependency on Artificial intelligence: Using Ai tools is like an addiction; you can get dependent on it.
Conclusion
Artificial intelligence can create everything, whether a blog article or artwork. Using Ai tools can save the time of humans and let them do other important work. After all, humans developed AI tools to make their life easy. Dream by Wombo is also one of the AI art-generating tools that can change our life.
We should only be concerned that we should never lose our creativity by depending on technology. Although using such tools gives us no harm, only uncountable benefits, we should take advantage of all the benefits.
FAQs
Is Dream by Wombo safe?
Yes, the Dream Ai tool is safe to use for everyone.
Can I use Wombo Dream art as NFTs?
Yes, you can mint your artwork generated by "Dream" as NFTs.
Is Dream by Wombo free?
It is free, but you can buy it for more exclusive features.
Can I sell my wombo dream art?
You can use wombo dream art commercially following the terms and conditions.
Which country made WOMBO?
Ben-Zion Benkhin developed Wombo in Canada.