Every storage device such as hard drive has a limited life to store the information. Sometimes due to any reason, your hard drive becomes inaccessible. In such case, you will lose all the information stored into it. Usually, we can divide the hard drive failures into two categories, logical and physical (or mechanical) damage.
When you face this situation, like data loss from dead hard drive, it becomes important to perform a proper data recovery process. Before going to start the recovery process using the mentioned tips, it is important for you to know the exact cause of the issue.
Here, in this article, we are providing quick and easy tips to get your files back from a dead hard drive. Just go through these methods to recover lost data from a dead hard drive.
Common Reasons Why Hard Drive Becomes Dead
There are several reasons responsible to make your hard drive as dead, given below:
Corruption: There may be an accumulation of bad sectors on your hard drive, which results in data corruption and thus damages the stored files. This corruption may damage either individual files or the entire file system of your hard drive.
Physical Damage: Hard drives sometimes get broken or damaged all of a sudden because of any issue with their moving parts. Even any sort of sudden shock or unexpected drops on your hard drives can damage them. The hard drive can become dead even because of extreme heat or humid environmental conditions.
Virus or Malware Attacks: Viruses can appear on your device in many forms. Malware can attack your files or format your entire drive. It can even enter your system in the form of suspicious emails, malicious links while browsing, downloading files from harmful sites, etc.
Can We Recover Data from Dead Hard Drive?
Is it possible to recover data from a dead hard drive?
The Answer is "Yes".
When you found your hard drive, dead or inaccessible, leave it idle. Avoid using it or saving any data on it.
First, identify whether your hard drive damage is logical or physical. The chances of recovering data from a dead hard drive depend on the cause of its failure. It also matters, how long ago the drive stopped responding.
Quick Methods to Recover Data from a Dead Hard Drive
In this article, we are providing several methods that you can apply to get the data from the dead hard drive. So let's start with these recovery methods one by one:
Method 01: Restore File from Dead Hard Drive Using Backup
This one is the easiest method to recover data from the dead hard drive, only if you create a backup. Windows OS provides in-built data backup utility that you need to configure first on your device. Windows File History is the best option to recover the lost data as it takes snapshots of your files and allows you to restore their working version.
You have to follow the following steps to restore a copy of your files on your device using the File History option, if it is enable:
First, you need to open the folder where your files were originally stored. Click the History option located in the Home tab.
Now, select the version of the file that you want to restore and then click the green-colour "Restore" button.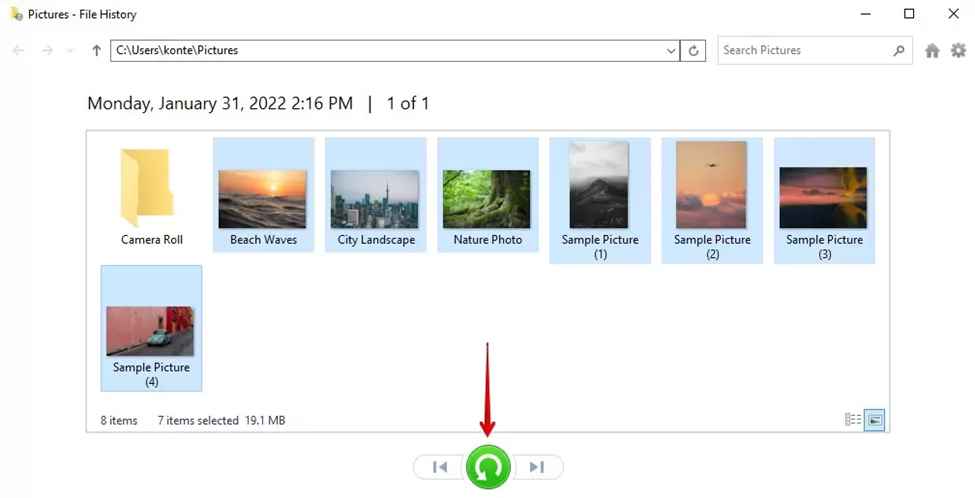 Once your file will recover successfully, check inside the folder.
Method 02: Use Data Recovery Software
Another method is using professional data recovery software and this kind of data recovery software are easily available online.
We are using the Stellar Data Recovery. A professional data recovery software that completely scans your hard drive and then retrieves data from it. Before we can extract data from the dead hard drive, it is important to know why this tool is best for your recovery process:
Along with hard drives, this tool allows you to get your lost or deleted files from other storage devices, including SSDs, USB drives, and much more.
You can use this recovery software to recover your deleted files, photos, documents, and other files from both internal or external hard drives and SSDs.
Restore files from NTFS, exFAT, and FAT formatted drives.
Supports the recovery of unlimited file types in a few simple clicks.
Steps to Restore Data from Dead Hard Drive Using Stellar Data Recovery Professional Tool:
You need to download and install the Stellar Data Recovery Professional software on your Windows computer. Then, follow the further steps to get your files from the dead hard drive:
Launch the software. From the "Select What to Recover" window -> select the type of data that you need to recover and click the "Next" button.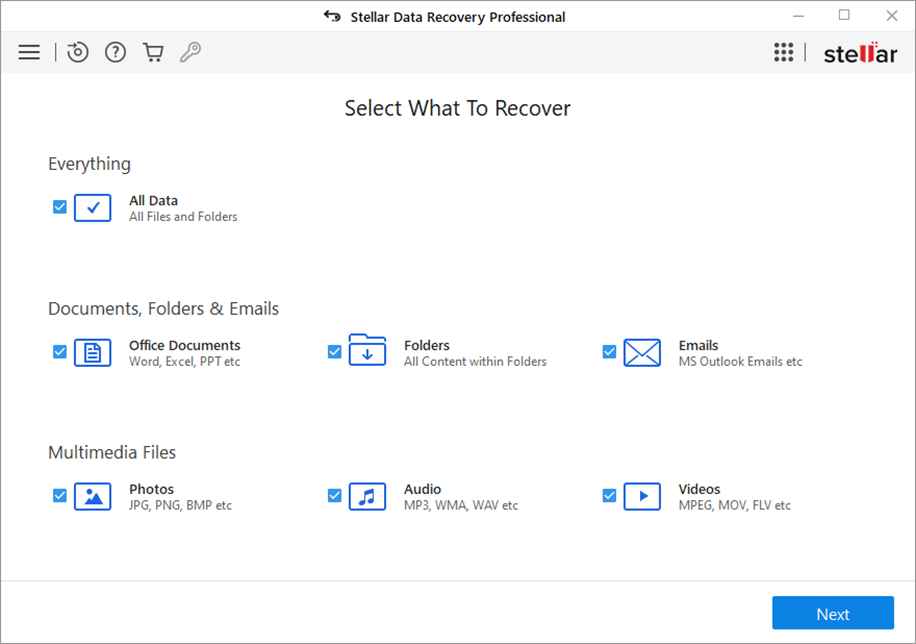 On the "Recover From" screen -> select the hard drive from which you need to recover the data. You can toggle the Deep Scan option to enable it. Then, click Scan to continue.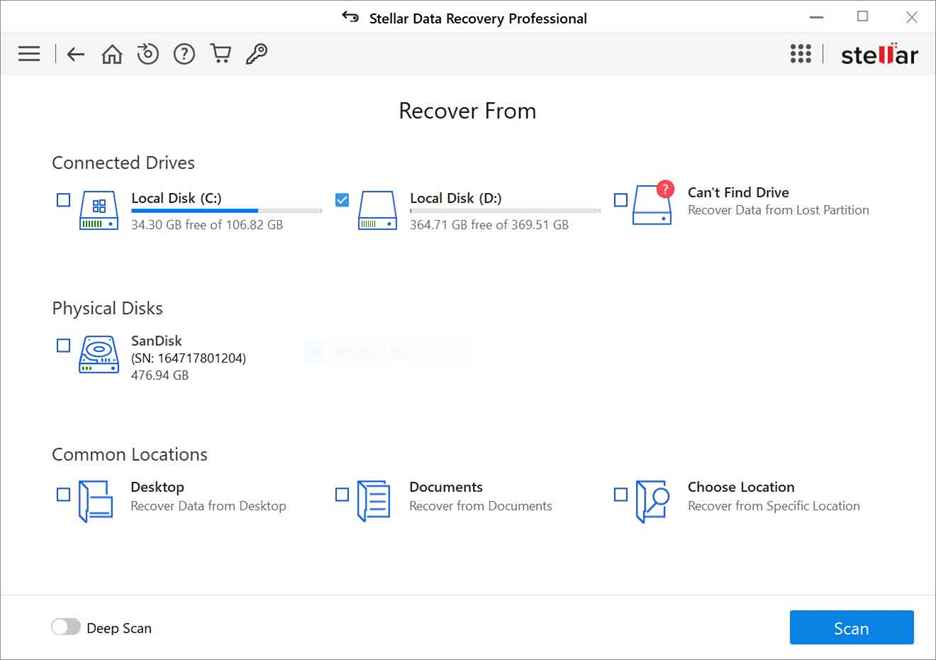 Once the scanning process gets successfully completed, preview the recoverable files and select all that you need to recover. Press the Recover button to save the selected files.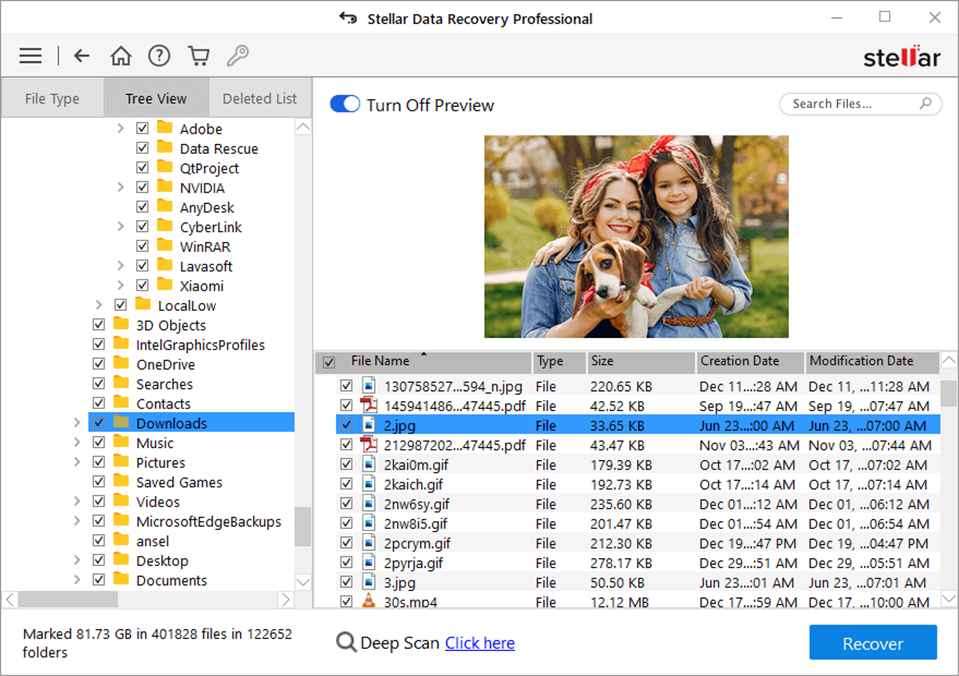 That's it! Once you are done with the above steps, check if you are able to access the recovered data from the saved location. It is important to note that the Stellar data recovery professional software is available in three different versions – Professional, Premium, and Technician. You can check and compare their features and then select the one that best suits to your requirement.
Important Tips for Dead Hard Drive Recovery:
This final section provides some important tips that can help you to recover data from a dead hard drive with less effort:
Once you found that your hard drive is dead, disconnect it from your computer and avoid using it with any other working device.
Make a habit to create a backup of any important data stored on your hard drive as it helps you in data-loss scenarios.
When your hard drive starts producing strange noises, avoid using it and try to transfer its data to a safe location.
Conclusion
Hope, the above methods will help you to retrieve data from a dead hard drive on your Windows device. Just go through the mentioned steps to get your files back.
You can also use professional data recovery software, like Stellar data recovery professional to retrieve data from the dead hard drive. This DIY recovery tool helps you to recover the lost files.