What is Azurewave Device?
In our daily routine we are using internet and things related to IOT. Mostly we use wifi for internet connection or accessing different devices wirelessly. For this reason, we need any wireless device that can fulfill our daily needs. There are many companies that are manufacturing wireless connectivity devices. Azurewave Technology Inc. is one of these top ranked companies. It is not only providing wireless connectivity solutions, but also the image processing methods. It is manufacturing wifi modules for IOT and Desktop PC Devices.
In your home automation project, you can use their modules. With the help of Azurewave products you can combine up to 6 wireless devices. In their unit, they are making great small modules and devices. These modules are enhanced by computerized processing, that's why these can be use for wifi or wireless purpose in any device. If you want to know more about Azurewave Devices you can check out our section below.
About Azurewave and its Devices:
Azurewave was established in late 2005 as a design, production and software solutions providing company. Its headquarter is situated in Taiwan. In their manufacturing unit they are making, PC, laptops, home appliances, automotive devices and much more. Here you will get complete information about Azure wave products and devices. As Azurewave Technology is manufacturing wireless modules, so you can find it in your PC or mobile.
They are providing different products and services like camera and wireless modules, digital image handling, digital communication products, solders, M.2 sockets, IOT Modules, Home Automation systems, new R & D modules like Bluetooth and wifi, Digital Cameras and DTV. They are currently providing services in 6 different countries.
Azurewave Device have many different aspects, that made it preferable for use. These aspects including:
Short Guard Interval of 400ns.
Spatial Stream Transmissions.
Support for different Network Bandwidth.
Spatial Propagation.
You can find their devices in many different products in form of 3G, Wifi, Bluetooth, GPS, DTV and Digital Camera Modules.
What Devices Use Azurewave Technology?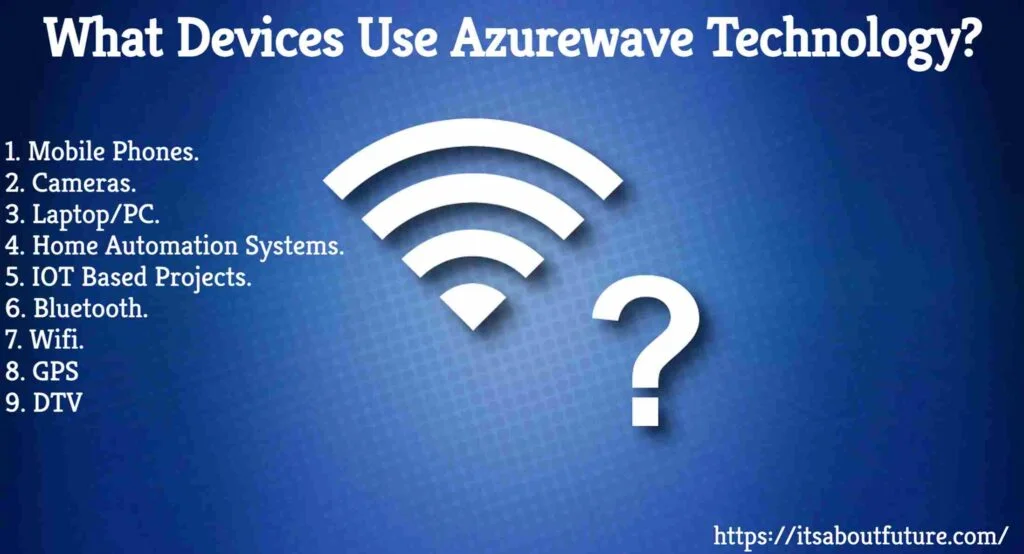 As stated Azurewave Technology is a Wireless and image processing solution and devices provider. So, there are many household and business devices that are using Azurewave modules and their products and devices. There are following some devices that are using AzureWave Technology:
Mobile Phones.
Cameras.
Laptop/PC.
Home Automation Systems.
IOT Based Projects.
Bluetooth.
Wifi.
GPS
DTV
Azurewave Modules:
Do you want to know about in what modules Azurewave Technology is working? Here is your answer. There are following 4 Azurewave Modules:
1. Wireless Modules:
The reason behind the popularity of Azurewave Technology is to manufacturing different wireless modules. The company is making WLAN (WIFI), Bluetooth and WWAN modules for several different products. These modules are consisting of, M.2 1630/2230 socket type module, MM.2 1216 solder down module, Stamp type solder down module, IoT Module (Wi-Fi / BT + MCU), Sip Molding module, and Voice / audio SoM. These modules can be used in Hosting a software and turning off/on wireless networks from other devices.
2. Camera Modules:
In our daily routine we need an intense 360 experience for best quality camera pics. For this reason, Azurewave Technologies has launched their 360 panomorph camera lens for all their smartphones, cameras, action cameras and other photo capturing devices.
This lens is also usable in IOT based devices for emotion detection and image processing. With the help of Azure's Panomorph 360 lens, you can make superior quality videos for social media or can take high resolution pictures. This is best quality product in camera module.
3. IOT Modules for Amazon Web Services:
While working on any IOT based project or device, you have to use any wireless module for your project connectivity with any cloud server. Mostly developers are using AWS Cloud in there IOT model. Azurewave's IOT modules are providing you the best connectivity through wireless modules with AWS cloud. These IOT modules will provide you long lasting connectivity without any interruption and top-rated stability. You can attach multiple IOT devices with AWS cloud simultaneously.
4. MCU Modules:
In this modern age, you want to make your home fully automated without replacing any home appliances. Azurewave is providing a microprocessor unit that will convert your ordinary devices into IOT based devices with the help of WIFI. You can make your old mobile phone or a camera into new device. MCU Modules have 2 units AW-CU300 and AW-CU427-P, that both can be operated with host or without any host.
Hope you have get enough information about Azurewave working modules. Now we will talk about its leading products in following section.
What is AzureWave Home Automation?
AzureWave Technologies Inc is Taiwan Based tech company that is manufacturing many wireless and IOT based products for end users and different companies. Due to its IOT based solutions with incorporation of AWS Cloud connectivity, they are providing Home Automation solutions.
For AzureWave Home Automation MCU Modules can be used. MCU Module converts your ordinary devices into fully automated devices. You can operate with the help of units AW-CU300 and AW0CU427-P.
What products does Azurewave Technology Inc make?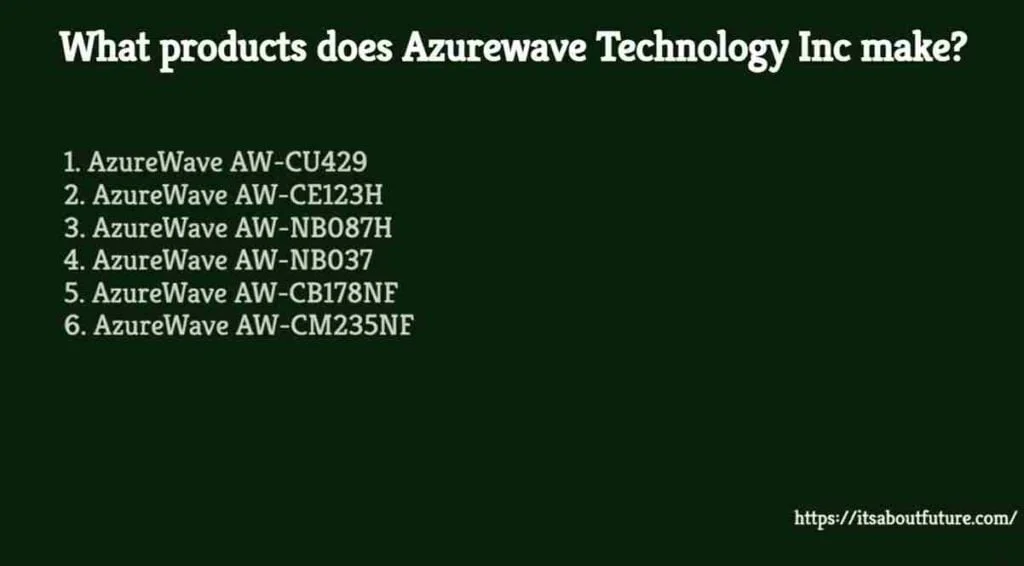 Let we talk about What products does Azurewave Technology Inc is making? There are following Azurewave Devices that are connected to my WIFI Network and in other wireless devices.
1. AzureWave AW-CU429:
It is an improved Bluetooth 5.1 solution, that is more flexible, cost effective and easy to access hardware and software platform. After the success of Dialog's Bluetooth LE 5.1 system on chip SoC DA14691, AzureWave AW-CU429 was manufactured. Its main features include:
FCC and ETSI approved.
Single 2.4v to 4.7v power input.
32 MBIT SPI Flash.
Embedded Antenna.
2. AzureWave AW-CE123H:
If you are looking for highly protected and high-speed Bluetooth system, then AzureWave AW-CE123H will be your best choice. It is a combined solution that offers a 24GHZ comprehensive Bluetooth System with v21 and Bluetooth 40 and 30 + HS. Its highlighting features are:
High Speed System.
Fast Connectivity.
Highly Protected Wireless Connection.
24GHZ Speed.
Bluetooth bt3.0 and bt4.0 units.
Increased Data Rate with 2mbps and 3mbps transfer support.
3. AzureWave AW-NB087H:
If you are an ordinary home user and don't have high fi system use, then it is best device for you. AzureWave AW-NB087H is made for home and business users having not required any improved IT Administrative devices. Its features are listed below:
Manufactured for home and business users.
Best for ordinary Devices.
Less Power Consuming.
Increased Data Rate with 2mbps and 3mbps transfer support.
Excellent Performance.
4. AzureWave AW-NB037:
It is IEEE 802.11b wireless solution. AzureWave AW-NB037 is a combined WLAN module that allows you to send your digital content via advanced wireless technology without use of extra wires. Its features are listed below:
Advanced System.
Fast Data Transfer.
Less Wires Required.
Cost Effective Solution for daily Use.
High Performance.
Less Power Consumption.
Suits 2 sides of USB Combo Half Mini Card and PCI Express.
5. AzureWave AW-CB178NF:
For data and audio communication network AzureWave AW-CB178NF can be used. It is attached with Bluetooth 4.2 and provide 2.4 GHZ data transfer rate. Its highlighting features are:
Identifying Radar Beats in 5 GHZ.
It handles 802.11h Dynamic Frequency Selection.
Increased Data Rate with 2mbps and 3mbps transfer support.
6. AzureWave AW-CM235NF:
AzureWave AW-CM235NF is used in smartphones, fixed devices and operating system supported devices. It has combined PA, PMU and LNA. Its features are listed below:
Best for Low Power Consuming Devices.
Supports 802.11e QoS, 802.11i AES and BT5.
Made up of Power Amplifiers, Power Management Unit and Low Noise Amplifier.
AzureWave Technology ps4:
If you are looking for is AzureWave technology is used in ps4? Then here is your answer. As we know that AzureWave is Wireless modules manufacturing company. If we talk about ps4, there is no wireless system is used in it. It is kind of a video game with wired remotes and wireless. But ps4 is not using any wireless component of AzureWave Technologies. So, your answer is big "No".
Is AzureWave Module Used in Chromecast?
Chromecast is a project of Google. Chromecast can be used to play different apps and videos from your android mobile and iPhone to your led tv. In this device a simple software and some casting modules are used, that make it possible to enjoy your favorite thigs on big screen.
It is a wireless module that's why according to initial documentation of Chromecast it is powered by Marvell "Armada" DE3005 and AzureWave 2.4 GHZ Wireless N Chip. So, AzureWave Technologies Inc Module is used in Chromecast.
What is AzureWave Device on my Wifi?
If you check your system settings you will find that you are using internet with AzureWave Device. As, we know that AzureWave Technologies is a top manufacturer of Wireless Modules and Devices. Many companies are using Wireless modules of AzureWave in there wifi and Bluetooth System. So, on your wifi AzureWave Device is a wifi or Bluetooth connectivity module that is used by your device manufacturer for wireless connectivity. You can more learn about it in our content mentioned above.
Conclusion :
Let we conclude our topic ho AzureWave Technologies. It is a best supplier of design, production, wireless, image processing and software products in a tech market. This company is working with Giants of technology world Like Google, GoDaddy and Amazon. AzureWave is producing a Wifi solutions for PC/ Laptops, mobiles, IOT based systems, and home appliances.
Moreover, they are providing solutions for camera and Wifi modules like USB Interface, MIPI interface, slim and narrow MIPI, biological camera modules and ultra slim and narrow NB. It has many other products that is serving the world in different aspects. Hope that our brief article has provided you with all the answers of your questions. If you have any query about AzureWave Devices, modules and technology, you can ask it in comment section given below. We are always here to solve your queries.