If you are a gamer, you must hear a lot of criticism about wasting your time and not doing something productive in your spare time.
Fear not, for I come bearing delightful news! A fantastic game, Bingo Clash, claims to give actual money to its players. But is it a legit game? Is it safe or a cam? I am here to provide you with a detailed bingo clash review which will clear all of your confusion.
I will cover all aspects of your questions about bingo clash, such as what is bingo clash? And how can you download it to earn money?
Stay tuned!
What is Bingo Clash?
Bingo Clash is a game available on Android and iOs devices. This game is developed by AviaGames, which also creates Pocket7Games. You can compete with other players in fast-paced bingo matches to win exciting rewards. The best thing about this game is its rewards and the fact that it is an interruption-free game without any ads.
How to Get Started with Bingo Clash?
Follow these steps to play Bingo Clash:
1. Download Bingo Clash from Google Play Store, Appstore, and Galaxy Store.
2. Open the Bingo Clash app and then choose an attractive avatar. Enter a username.
3. Play a tutorial game to understand the rules.
4. After the tutorial, play an actual match with the opponent, and don't forget to submit your score
5. Use your cash rewards and earned tickets to play more and participate in tournaments.
How does Bingo Clash work?
For this review, I downloaded Bingo Clash to give it a try. The application is quite user-friendly, and it only takes a few minutes to register and comprehend its workings.
Bingo Clash Game Modes
Bingo Clash offers only two types of game modes:
Free Games: You can participate in Freeroll tournaments by utilizing tickets, which give you a chance to win small cash prizes. Alternatively, you can play free Bingo games with the app for fun.
Pay-To-Play Games: Rather than entering Freeroll tournaments, you can spend real money to join one versus-one or tournament Bingo matches with bigger prize pools. The top players in these games are awarded actual cash prizes.
Who Can Use Bingo Clash?
Not everyone can play this game. You can only play bingo clash if you are older than 17. You should also question yourself before downloading bingo clash "Am I a gambling addict?"
You should not risk playing this game if the answer is "yes."
Bingo Clash is banned in some states. Unfortunately, People in the following states can not play this game.
Oregon
South Dakota
Wisconsin
Washington
Illinois
Indiana
Louisiana
Nevada
Michigan
New York
How to Earn Money on Bingo Clash?
If you're looking for a fun and exciting way to earn extra cash, Bingo Clash might be just what you need! Here are some tips on how to maximize your earnings:
Play regularly – the more games you play, the higher your chances of winning big!
Take advantage of bonuses – Bingo Clash often offers bonuses for daily logins, completing challenges, and inviting friends to play. Make sure to claim these bonuses whenever possible.
Be strategic – pay attention to the patterns on your bingo card and anticipate which numbers will be called next.
Join tournaments – Bingo Clash hosts regular tournaments with cash prizes. These can be a great way to earn extra cash while enjoying friendly competition.
Is bingo clash legit?
Bingo Clash is a legitimate gaming app with positive reviews on the App Store (4.5 stars) and the Galaxy Store (4.5 stars). However, earning money on the app is challenging unless you deposit.
Pros and Cons of Playing Bingo Clash:
Pros
Fun and engaging gameplay: Bingo Clash offers an exciting and enjoyable bingo experience, with various game modes and power-ups to keep players entertained.
Chance to win real prizes: Bingo Clash offers players the opportunity to win real prizes, including cash and other rewards, by playing and winning games.
Play with friends: Bingo Clash allows players to connect with friends and play together, adding a social element to the game.
Regular bonuses and rewards: Bingo Clash offers regular bonuses and rewards to players, including free coins and power-ups, which can help increase your chances of winning.
Easy to play: Bingo Clash is easy to learn and play, making it accessible to players of all skill levels. The game also offers tutorials and helpful tips to guide new players through the gameplay.
Cons
In-app purchases: While Bingo Clash is free to download and play, it does offer in-app purchases for additional coins and power-ups, which can become costly for players who wish to keep up with the competition.
Addiction risk: As with any game that offers real prizes, there is a risk of becoming addicted to Bingo Clash and spending too much time and money on the game.
Alternatives To Bingo Clash
1. Blackout Bingo: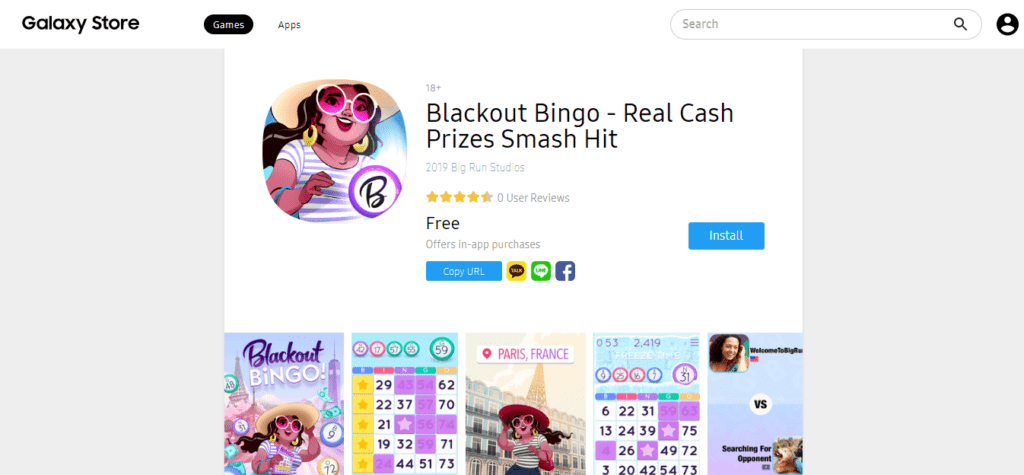 Blackout Bingo is a head-to-head tournament game with a real cash prize and up to 5 million players.
Download for Apple: https://apps.apple.com/us/app/blackout-bingo-win-real-cash/id1464235676
2. Bingo cash: 
Bingo Cash is from Lucky.LTD, which allows you to travel to 50 cities virtually. You can also get a chance to win money in 13 different ways. 
Download for Apple: https://apps.apple.com/us/app/bingo-cash/id1522266397
3. Bingo Tour: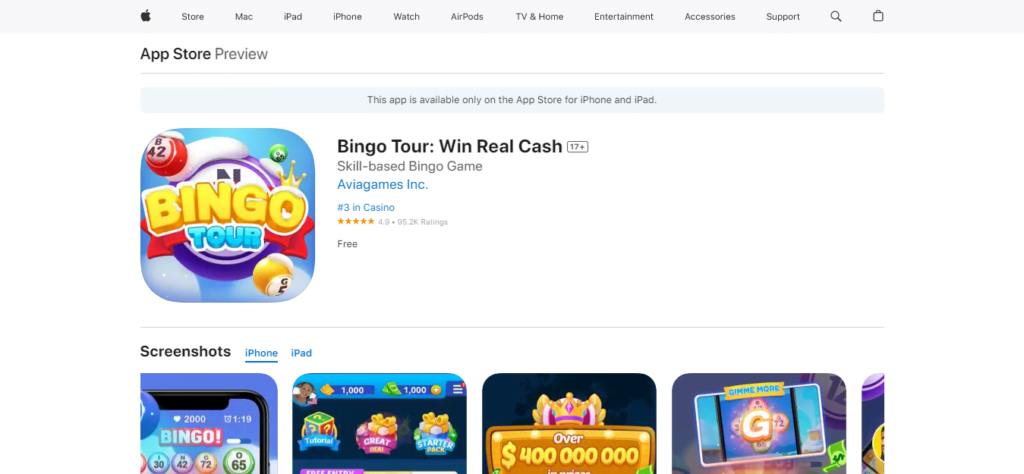 Bingo's Clash developer develops this game. It follows the same rules but with few variations for multiplayer. 
Download for Android: https://apps.apple.com/us/app/bingo-tour-win-real-cash/id1594170490
4. Bingo Go: 
 Bingo Go is a popular mobile bingo game that allows players to win big while enjoying various bingo experiences. With daily bonuses, special events, and various game modes, Bingo Go is a must-try for online bingo fans.
Download: https://play.google.com/store/apps/details?id=com.BingoFun.BingoGo&hl=en&gl=US&pli=1
5. Bingo Paradise:
Bingo Paradise is a colorful and engaging mobile bingo game that allows players to win big prizes. And it has various bingo modes with fun power-ups and special events.
Download: https://www.bingoparadise.co.uk/
6. Yatzy Bingo: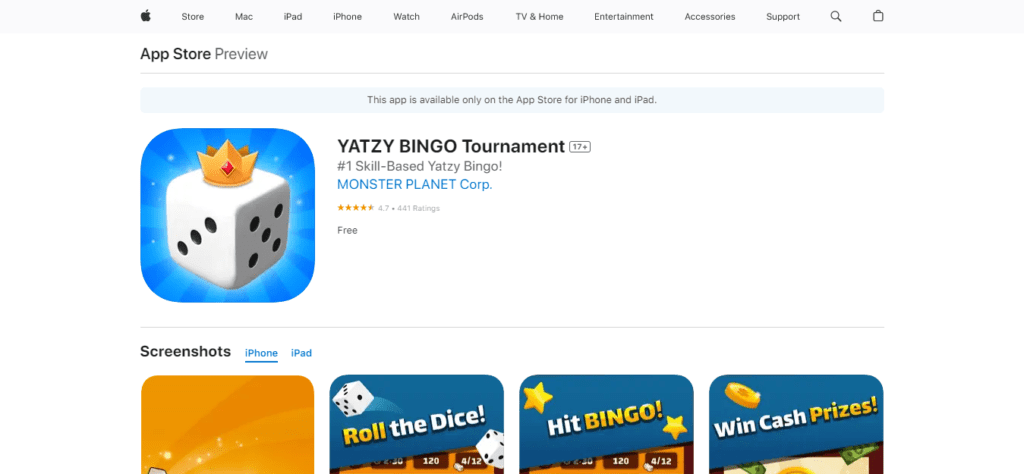 Yatzy Bingo is a unique twist on traditional Bingo that combines elements of the classic dice game Yatzy with the excitement of online Bingo.
Download for Android: https://apps.apple.com/us/app/yatzy-bingo-tournament/id1507853123
7. Bingo Travel:
 Bingo Travel is a mobile bingo game that takes players on a virtual trip worldwide, offering different bingo modes and themes inspired by various locations. Bingo Travel is an excellent choice for fans of online gaming who love to travel.
Link: https://www.bingo.travel/
8. Big buck hunter: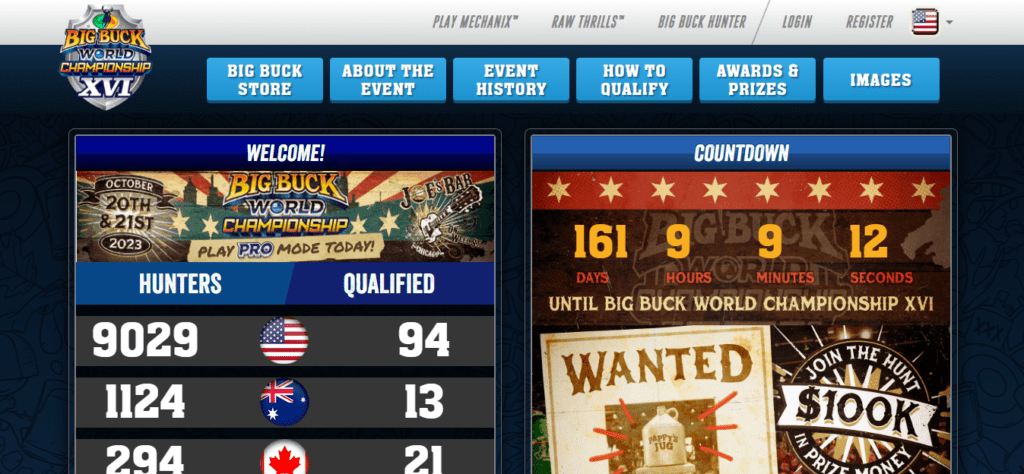 Big Buck Hunter is an arcade game that simulates the thrill of hunting big games. With realistic graphics and addictive gameplay, Big Buck Hunter is a must-try for fans of hunting and arcade games.
Link: https://bigbuckhunter.com/
9. Solitaire Cash:
Solitaire Cash is a mobile game that lets you play classic Solitaire for cash prizes. Your chance of earning money from this game is higher if you are an expert in solitaire card games.
Link: https://apps.apple.com/us/app/solitaire-cash/id1446254576
10. Branded Surveys: 
Branded Surveys is an online platform that offers paid surveys to users. With a user-friendly interface and a wide variety of surveys, Branded Surveys are a great way to earn extra cash in your spare time.
Link: https://surveys.gobranded.com/
11. Mistplay:
Mistplay is an engaging mobile app that allows you to win money by installing different games. You can also earn gift cards by playing games on Mistplay. 
Link: https://www.mistplay.com/
12. Survey Junkie: 
Survey Junkie Is a secure online platform with thousands of users who share their experiences with brands. In return, they receive real money. 
Link: https://www.surveyjunkie.com/
13. Kashkick: 
Kashkick is an online platform that offers users the chance to earn money by completing various tasks, such as taking surveys, watching videos, and signing up for free trials. 
Link: https://kashkick.com/
Common Queries About Bingo Clash
Is Bingo Clash pay real money?
Yes, it pays real money. After reading my article, you should not doubt the authenticity of bingo clash.
How much can you earn with Bingo Clash?
It depends on how many games you play and which tournament you participate in.
How do I withdraw money from Bingo Clash?
Bingo Clash has a $2 minimum withdrawal amount, with any withdrawal under $10 subject to a $1 processing fee. It's important to note that bonus cash cannot be withdrawn; instead, it can only be used to play more games. Withdrawals are possible through PayPal.
How do you score high in Bingo Clash?
The trick to scoring high on Bingo Clash is to click the number as soon as possible.
Are bingo apps safe?
Yes, all the bingo apps are safe and secure with many users.
Do I pay taxes on the money I earn?
You have to pay tax if you earn more than $600. You will be sent an IRS Form W-9 and 1099-MISC.
Is Bingo Clash rated on BBB? 
The Better Business Bureau (BBB) website does not have a Bingo Clash review page. AviaGames, the game's creator, has a business profile named 7 Pockets Games. This company currently has an F rating due to many complaints (53) filed against it. The majority of the complaints received have been addressed and resolved.
Final Thoughts on Bingo Clash:
Bingo Clash is a good option for earning money but it can make you a gambling addict. Keeping that in mind, players should set limits to prevent excessive playing.
Remember, earning money on Bingo Clash is all about having fun and playing smart. So grab your dauber and get ready to shout "Bingo!"