Summer is a season of relaxation and beachy vibes and promises to offer a wide range of revealing swimsuits currently trending in the fashion industry. Some of these swimsuits are even being showcased on the runway. The trend of wearing revealing swimsuits and bikinis has been popularized by famous designers who recognized the need for sexier Swimwear to beat the heat at the beach.
Celebrities have also embraced this trend, wore these daring swimsuits, and inspired us to be bold and confident. As we head to the beach and pool this summer, we must embrace our daring inner diva and flaunt these sexy swimsuits with pride.
What material is Swimwear made of?
Swimwear is made from various fabrics such as spandex, nylon, polyester, and polyester-spandex blends. Typically, swimsuits are crafted from polyester or spandex due to their durability, comfort, and affordability.
Consider cost, longevity, and overall comfort when selecting a swimsuit fabric. By making an informed decision about the best materials for your swimsuit, you can ensure that it meets your expectation and provides you with a comfortable and enjoyable swimming experience.
The origin of modern-day swimsuit
Swimwear dates back to ancient times when people would swim and bathe naked or in simple clothes. However, as society evolved and modesty norms developed, Swimwear began to take on a more significant role.
In the 19th century, bathing machines were invented, allowing people to change into bathing suits privately and enter the water without being seen by others. These machines were used primarily by women, who wore heavy, full-body garments that covered almost every inch of skin.
In the 20th century, dawned attitude toward swimmers began to change, and designers started to experiment with different styles and materials. In the 1920s, swimsuits began to resemble more closely the clothing styles of the day, with shorter hemlines and a looser fit.
In the 1930s, two-piece swimsuits began to gain popularity, but they still covered a considerable amount of skin. It was not until the 1940s that French designer Louis Reard's bikini caused a sensation when it was first introduced, and it took some time for it to become widely accepted.
Swimwear has continued to evolve and change with time. One-piece swimsuits remained popular throughout the mid-20th century. Still, in recent years, two-piece suits have become increasingly popular again, with styles ranging from classic bikinis to more modest tankinis and high-waisted bottoms.
Today Swimwear is an essential part of summer fashion with many styles, materials, and designs. There is a swimsuit for everyone.
Different types of swimsuits
Swimsuits have come a long way since the days of ill-fitting and unflattering one-pieces. Nowadays, there are a variety of styles, designs, and silhouettes to choose from that can make any woman feel confident and sexy. Here is a list of 10 of the most revealing swimsuits ever!
1. Cut-Out One-Piece Swimsuit
This style of swimsuit is a modern take on the traditional one-piece. It features strategically placed cut-outs that reveal just enough skin to make you feel sexy and confident.
2. High-Waisted Bikini
This swimsuit style is perfect for those who want to show off their curves. The high-waisted bikini gives the illusion of an hourglass shape and can be paired with various tops and bottoms.
3. Bandeau Top
This style of swimsuit is great for showing off your shoulders and décolletage. The bandeau top is often paired with high-waisted bottoms to create a flattering silhouette.
4. Plunge One-Piece
This swimsuit style is perfect for those who want to show off their cleavage. The plunge neckline of the one-piece gives the illusion of a larger bust and adds a touch of sexiness to any look.
5. Thong Bikini
This swimsuit style is perfect for those who want to show off their derriere. The thong bikini provides minimal coverage in the back and gives the illusion of a bigger booty.
6. String Bikini
This swimsuit style is perfect for those who want to show off their figure. The string bikini provides minimal coverage and can be adjusted to fit any body type.
7. Mesh Bikini
This swimsuit style is perfect for those who want to show off their curves. The mesh fabric of the bikini provides sheer coverage and adds a touch of sexiness to any look.
8. High-Leg One-Piece
This swimsuit style is perfect for those who want to show off their legs. The high-leg one-piece provides minimal coverage and can be adjusted to fit any body type.
9. Halter Bikini
This swimsuit style is perfect for those who want to show off their neckline. The halter bikini provides minimal coverage and can be adjusted to fit any body type.
10. Off-the-Shoulder Bikini
This swimsuit style is perfect for those who want to show off their shoulders. The off-the-shoulder bikini provides minimal coverage and can be adjusted to fit any body type.
11. Cover up
A caftan is a loose, flowy garment that can be long or short-sleeved and extend to ankle length. This outfit provides an excellent option, especially if you prefer a long sleeve, ankle-length alternative. The caftan is a versatile piece of clothing that can be worn for various occasions, and its loose and airy design makes it comfortable to wear during the hot summer months.
12. Tankini
Anne Cole is credited with creating the tankini, which was introduced in the 1990s. Some people consider the tankini to be more similar to a one-piece swimsuit as it covers as much skin or even more than most one-piece suits. Compared to a bikini, the tankini is more modest in appearance. These days, the tankini is a popular swimwear choice and is considered fashionable.
13. Monokini
While the tankini is a two-piece garment with a modest appearance, the monokini is a single-piece swimsuit that typically reveals more skin. The monokini features a V-cut bottom and may include cutouts, plunging necklines, a halter neck, and straps that further accentuate skin exposure.
Despite being a one-piece garment, the monokini is designed with thinner panels or cloth strings, joining two pieces together. This swimmer option is often considered skimpier, emphasizing a bolder and more revealing look.
14. One-piece swimsuit
The term "one-piece swimsuit" generally describes a type of Swimwear worn by women and girls during aquatic activities, such as swimming, playing water polo, or sunbathing. This type of Swimwear consists of a single piece of material instead of multiple interconnected parts.
Despite being a single-piece, one-piece swimsuits can come in various designs and are anything but boring. Whether you prefer monochromatic styles or colorful floral patterns, the selection of one-piece swimsuits is vast and varied, catering to diverse fashion tastes.
15. Two-piece swimsuit
A two-piece swimsuit allows you to mix and match different bathing suit pieces to create various looks each day you spend on the beach. This swimwear style is currently popular worldwide due to its versatility.
Compared to a one-piece swimsuit, a two-piece offers more options, allowing you to create numerous unique outfits. However, to fully take advantage of this versatility, you may need to invest in multiple bathing suits to mix and match effectively.
No matter what swimsuit style you choose, you can be sure that you will look and feel confident and sexy! So, pick the style that best suits your body, and you can turn heads at the beach this summer!
Which things to look out for buying a swimsuit?
When purchasing Swimwear, we can all agree that it can be daunting, especially if you buy online. The various styles, patterns, and cutouts can be overwhelming and confusing. Furthermore, finding the right size can be akin to winning the lottery. However, we have some tips that can assist you in selecting the ideal size.

When purchasing Swimwear, several things must be considered to ensure the best fit, style, and comfort. Some of the critical factors to look out for when buying Swimwear include
Know your measurement
When shopping online, it can be challenging to determine the correct size using the provided sizing chart, which can often be unclear and misleading. Making a rough estimate of your size is not advisable as it can lead to disastrous results. To avoid such a situation, you can use a measuring tape that can be easily found in your surroundings.
Be aware of what you want.
The fast fashion industry offers many clothing options, but the constant changes in trends can be overwhelming and confusing. When purchasing Swimwear, size is a crucial factor to consider. It is worth noting that the sizing chart can differ from brand to brand.
Cheque out for adjustable feature
Opting for bathing suits that can be adjusted per your requirements is recommended. Adjustable shoulder straps are handy as they prevent slipping on the shoulder. Swimsuits with removable cups can be a great option as they allow for easy replacement without buying a new swimsuit in case they become worn out.
Check the durability
It is crucial to check how securely they are attached to the fabric. If they are only connected with a few threads, there is a high probability that they will come loose and fall off, leading to disappointment.
It is always wise to avoid purchasing a bathing suit with loosely attached beads. Therefore, a bathing suit with family-attached embellishments that endure daily wear and tear is recommended.
Top most revealing swimsuits of all time
The topmost revealing swimsuits of all time are as follows:
Gigi Top Black by God Saves Queen
God Saves Queens is a premium lingerie brand founded by Karoline Priess in Poland. Their products are handcrafted to provide high-quality goods to their customer. One of their latest offerings is the Gigi Top Black.
Despite its daring appearance, it has a shoulder strap and underwires for added support. This two-piece swimsuit is an excellent choice for those who prefer a black wardrobe and want to add a matching swimsuit to their collection.
Caicos by Kylie Swimwear
As a businesswoman, Kylie ventured into the swimwear industry and is now the CEO of her brand, Kylie Swimwear. On August 17, Jenner took to Instagram and shared a Polaroid picture of herself donning a cutout pink and yellow swimsuit, revealing her new swimsuit line, Kylie Swim.
The swimsuit featured today is Caicos, a stunning one-piece halter-style bathing suit. It boasts Kylie's signature omber color palette with shades of pink and orange. This swimsuit is a deal for those confident in showing off their skin.
Muehl Eder Boni bikini top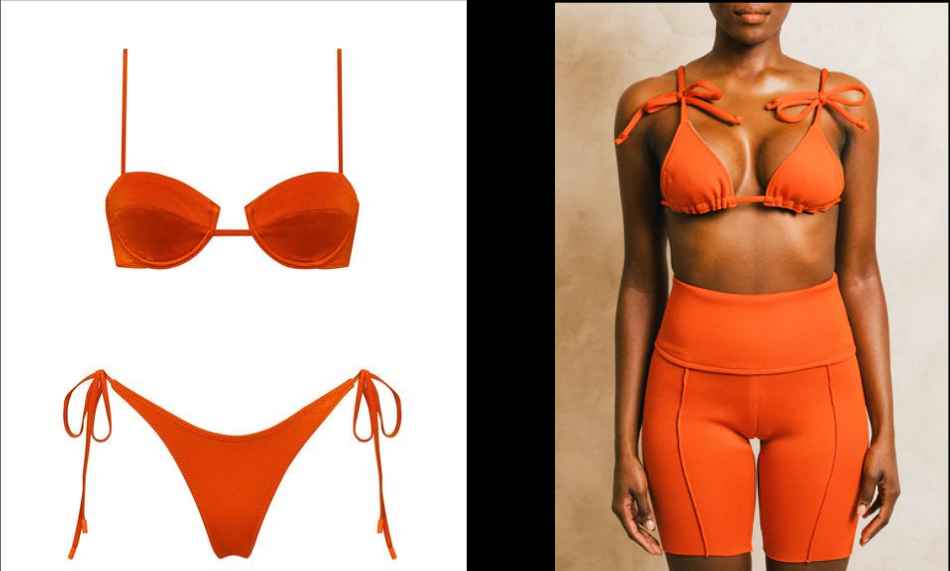 Muehler, the eponymous brand's founder, attended the Fashion Institute of Technology and majored in Fashion Marketing. She established Muehelder after completing her studies to create a company for self-employed, ambitious women who aspire to inspire others.
Mia ruched balconette bikini top by Jade Swim
They are introducing the latest must-have from Kylie swimwear. This daring ensemble is perfect for those who love to take fashion risks. With minimal coverage, the top and bottom flatter the body shape effortlessly.
Equator bikini top revolving in violet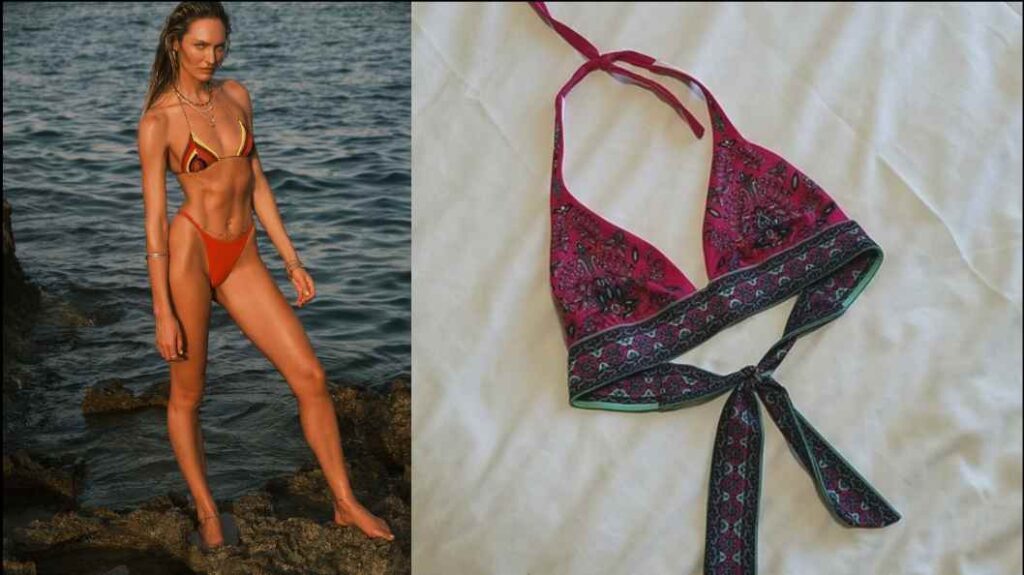 Rev up your swimwear collection with the Equator Bikini Top from revolving a daring two-piece set that has earned its place on our all-time favorite swimsuit list.
The standout feature of this bikini top is the rare and captivating violet hue, making it a unique addition to your swimwear wardrobe. The skimpy top is designed with strings accentuating your curves, exuding confidence and boldness.
FAQs
What color swimwear is most attractive?
If you are looking for a swimwear color that is not black but still eye-catching, dark purple is an excellent choice. This intense shade of purple can is described as blackberry. Other appealing option includes emerald green, maroon, burnt orange, and many more.
How should a swimsuit fit?
A well-fitting swimsuit should provide enough support to keep your breasts in place and prevent unwanted motion. If you notice any leakage, it may indicate that your swimsuit is either too tight, too loose, or simply not the right fit for your body shape.
Which type of swimsuits help you look slimmer?
For a slimmer figure when surfing, opt for Swimwear in a dark color like black. A swimsuit with a pattern such as thin lines and small polka dots can also help streamline your silhouette.
Final words
Revealing swimsuits are crafted to showcase the body and are ideal for summertime as they allow sunlight absorption and its beneficial vitamins. Shedding the layers of heavy clothing worn during other seasons, you can liberate your body and allow your skin to breathe.
A fashion stylist has compiled a list of the most revealing swimsuits, bikinis, and bath suits available on the market, ranging from tiny to transparent designs. You can purchase them from retailers if you feel confident enough to wear such daring Swimwear. Follow fashioners on social media platforms for more exclusive fashion and beauty trends.