Being contacted by an unknown number can always cause some concern. Your next unknown caller could be a friend, a spammer, or a business partner, all calling with different intentions. You can ignore these unknown numbers entirely or risk picking up the call and figuring out if the call is legitimate.
Instead, before you pick up the call, you can identify the caller so that you can decide whether to pick up the phone or not. A reverse phone service such as WhoCallMe can be a great way to avoid picking up calls from spammers while ensuring you do not miss important calls.
Who is WhoCallMe?
WhoCallMe is the number one search engine that uses reverse phone lookup services to find who is calling you. It offers fast and accurate results with the help of its extensive database. WhoCallMe is a perfect reverse phone lookup platform that helps you identify spammers and unknown callers.The platform does not require you to log in to the site or provide any personal information, which means it is entirely secure, and all searches are confidential.
Its databases consist of data from several comprehensive directories and public databases. This means that you  can identify almost any phone number through WhoCallMe and find out who called you from this number. Another benefit of using this platform is that there is no limitation to the number of lookups, as it is entirely free to use.

How WhoCallMe Can Help Find the Unknown Caller:
Searching for the unknown caller and using WhoCallMe is very simple. It just takes a few minutes to figure out the identity of the unknown caller and their details for you to look into. Here are the simple steps to find out who is calling you?
Step 1- Enter the Phone number in the search box:
Open the platform and input the unidentified phone number in the search box. Ensure that the phone number you enter is accurate, or else the search results will be false. Click the search button on the right side of the search box to activate the search.
Step 2- Wait for the Results to Get Generated:
WhoCallMe has a comprehensive database that is updated, using public records. The data is being computed by the platform. You have to wait for the results page to be generated. Hence, give it some time to process all the data. This will take a few minutes only.
Step 3- Review the Results:
Once the results are generated, you need to review them and select the one more relevant to the one you seek. If there is more than one result, check them and select the most appropriate one.
The Features of WhoCallMe: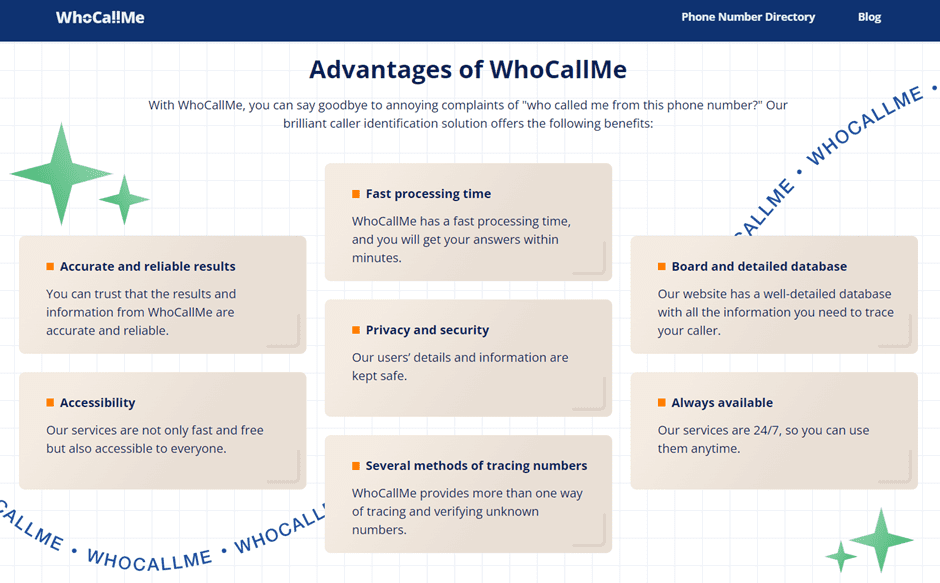 Here are the top features offered by WhoCallMe that make it popular with users.
1. Accurate:
WhoCallMe makes use of a comprehensive database that consists of information from public directories. This means the results generated through its reverse phone lookup are accurate and reliable.
2. Comprehensive Database:
WhoCallMe makes use of public directories to update its database frequently. As we know, public directories are very accurate, which means that the WhoCallMe database can be considered equally precise and thorough. For instance, if you are looking for an unknown caller whose phone number starting with 201 using WhoCallMe, you will always be assured that the results are as accurate as the public directories.
3. Fast Processing:
WhoCallMe uses an advanced processor for computing the database to generate results regarding the unknown caller. The process is really fast and. hardly takes a few minutes.
4. Accessible:
WhoCallMe is a really easy-to-use platform. The design is very clean, with a simple call to action so that even new users can use it easily. Further, the platform has been created to be accessible to everyone.
5. Secure:
If you are looking for a secure platform for reverse phone lookup, look no further than WhoCallMe. It uses the latest technology to encrypt the data. It also does not store your personal information, which means that there is no question of data theft. Your search is also kept discrete by the platform. Hence it is absolutely secure.
FAQs:
1. Is WhoCallMe accurate?
Yes, WhoCallMe uses public directories to update its database. Their website has a detailed database that is regularly updated and offers you accurate information to trace your caller.
2. How much does WhoCallMe charge for a reverse phone lookup?
WhoCallMe is an entirely free-to-use platform with no hidden charges. You can use the platform to search for unlimited reverse phone lookups without worrying about fees. Though it is a free tool, its services can be compared to the premium ones.
3. Is WhoCallMe secure to use?
Yes, WhoCallMe is an entirely secure platform that encrypts all the data for security. You need not worry about your data getting leaked while using the platform, as it does not require you to fill in any personal details. They do not even ask you to log in to the site, which means all your reverse phone number searches on WhoCallMe are discreet.
4. How long does finding someone using WhoCallMe takes?
WhoCallMe has a fast-processing time, which means it takes just a few minutes to gather all the information about the person who owns the unknown phone number that you have been receiving calls from.
The Bottom Line:
Using a reverse phone lookup service is brilliant for people who receive frequent spam calls from unknown numbers. You will find numerous phone lookup websites available online, so it is essential to research the one that best suits your needs.
A good quality reverse phone lookup site offers you the name and address of the unknown caller and gives you more information about their background and other public records. So stop wondering who is calling you from the unknown number and start using WhoCallMe today!