Getting famous for something you have achieved after years of struggle and hard work is not everyone's cup of tea. Although many people get famous by doing stupid stuff, their fame is temporary. Earning permanent recognition and popularity requires a broader vision and a talent that no one can deny.
Ramneek Sidhu has achieved the height of success and popularity through his entrepreneurship. He is not only a businessman but also an Instagram influencer and this is just the cherry on top.
If you are looking to know more about Ramneek Sidhu Entrepreneur And Instagram Influencer, you are at the right place because I will tell you about his career, digital king agency, and much more.
Who is Ramneek Sidhu?
Ramneek Sidhu is an entrepreneur and Instagram influencer who has made a name for himself by leveraging the power of social media. He is a successful businessman and has used his platform to share his entrepreneurial journey with others. With over 7k followers on Instagram, he has inspired many aspiring entrepreneurs. By sharing his insights, tips, and strategies on how to build a successful business, he has helped many people reach their goals. He also provides valuable advice on using social media effectively for business growth.
Ramneek is currently living in UAE, and he is an example of how entrepreneurs can use the power of social media to grow their businesses and achieve success.
Ramneek Sidhu Early Life
Ramneek Sidhu entrepreneur was born on the 2nd of January 1995, in Mohali Punjab to a Sikh family. He started schooling at Golden Bells Public School in Punjab. After school, he persuades his education in Chandigarh at the Rayat and Bahra group of institutes and achieved a degree in Bachelor of Technology (BTech), in Computer Science (2012 – 2016).
He was always interested in traveling and was a Bollywood music fan. According to his Facebook account, watching movies and listening to music are Ramneek Sidhu's favorite hobbies.
Ramneek Sidhu was always a creative boy and, wanted to achieve something bigger in his life. He started taking an interest in digital marketing at a very young age and now owns his digital agency to help others.
Ramneek Sidhu Personal Life
Ramneek Sidhu is a private person who does not like to share much about his personal life. According to some sources, he dated Shweta Kaushik for eight years, but they are not together anymore. Ramneek Sidhu shared a photo with a girl on 1st April 2020 with the caption "To the one who holds all of my attention, Happy birthday love." The girl in that photo could be anyone, maybe a friend or a girlfriend.
Ramneek Sidhu Career
Ramneek Sidhu has multiple skills, including Information Security Management, Social Media Marketing, Social Media Management, Facebook Marketing, and information technology. The young 28 years old man Ramneek is also an Ethical Hacker and cyber security expert. He worked as a freelancer and Head Of Digital EYP Creations as a full-time employee from Jan 2013 to Oct 2016. Ramneek worked for many Hollywood and Bollywood celebrities to promote their accounts and increase their visibility.
Ramneek's entrepreneurship journey began when he started his business in June 2016 when he launched his digital advertising agency Digital King. Since then, he has been working hard to build an impressive portfolio of businesses that span multiple industries.
Digital King– Ramneek Sidhu Entrepreneur
Ramneek Sidhu is the founder of an innovative digital marketing agency "Digital King" based in UAE. Digital Kings is an IT agency that is highly focused on Search Engine Optimization SEO dedicated to empowering its clients. He takes projects from clients all over the world, especially from UAE and India.
Digital King offers numerous services to promote business such as content marketing, media marketing, app development, web development, SEO optimization, and PPC advertising. This agency has been helping clients for more than five years and worked on thousands of projects. Digital King is providing three plans for marketing, standard, economy, and executive.
Social Media Accounts–Ramneek Sidhu Instagram Influencer
Ramneek Sidhu has become one of the most influential figures on Instagram today, through his inspirational messages and motivational videos. He continues to be an inspiration for many aspiring entrepreneurs who are looking to make their mark in the world of business.
Ramneek is also active on Facebook and Twitter. He also created a Youtube channel in 2021 where he has 484,371 views.
Followers of Ramneek Sidhu on Social Media
Ramneek Sidhu's Instagram account has 710k followers.
He has 1.7K friends on Facebook where he shares his pictures and videos of traveling.
This social media influencer and entrepreneur is also active on Twitter with more than 12k followers.
What inspiration can we take from Ramneek Sidhu?
Ramneek Sidhu belonged to a middle-class family but he has become a rich person by doing hard work and consistency. He inspires every young boy to focus on his goal despite his family background. We can learn from his journey that success is never easy. Ramneek Sidhu advises every businessman to leave traditional ways of advertising and adopt digital marketing and innovative tools because the world is changing.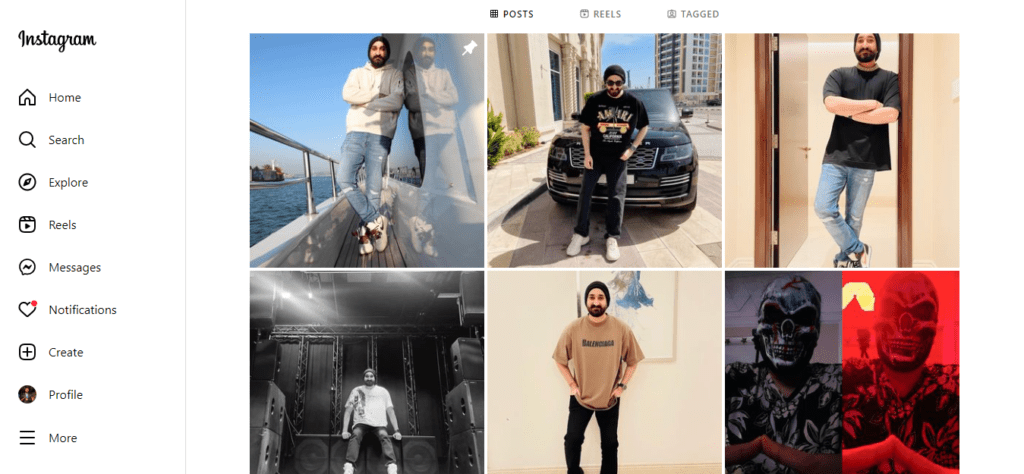 FAQs About Ramneek Sidhu
What is the nationality of Ramneek Sidhu?
He was born in India and currently living in UAE; his nationality is unclear.
What is the mantra of success according to Ramneek Sidhu?
Ramneek Sidhu believes in learning and growing at every stage of life. This is the mantra of success for this young entrepreneur.
What is the net worth of Ramneek Sidhu in 2023?
Ramneek net worth in 2023 is nearly 3 Million Dollars.
How to contact Ramneek's agency, Digital King?
You can contact digital king in the following ways:
Email them at admin@digitalkingsad.com
Call them on  +971-58566566
Final Thoughts
Ramneek Sidhu is an entrepreneur as well as an Instagram influencer. He is a rising star in the tech industry and the founder of a leading digital marketing company "Digital King." This young man has helped many clients in promoting their businesses.
Ramneek Sidhu inspired every entrepreneur to take a risk and build their startup rather than doing a job for someone else for their whole life. He is an inspiration for people struggling to achieve their goals. Follow your dreams and achieve your aim in life just like Ramneek Sidhu.