Are you a die heart fan of Indian cinema, including Tamil, Telugu, and Hindi movies? Going to the cinema to watch every movie is impossible, and only some movies are released worldwide. Do you need help finding a reliable and free streaming platform for these films? Look no further than Einthusan!
This video streaming website is appropriate for you; a leading South Asian streaming service that offers free full-length feature films in multiple languages. It supports iOS, Android, PCs, Macs, web browsers, and game consoles, allowing millions of users to stream under-appreciated and under-rated films for free.
In this blog, I will tell you everything you need to know about Einthusan, including its alternatives, benefits and drawbacks.
Get ready to discover the world of Indian movies!
What is Einthusan?
Einthusan.com or Einthusan.tv is a video streaming website with 4000 plus content, including movies, music videos and short slips. This website is easy to use and categorises content by directors, years of release, cast and popularity.
Einthusan has a Facebook and Instagram page with 4.9K and 908 followers, respectively. They update their fans about the recent release on the website of Einthusan. It gained popularity by providing HD content and providing more than 1000 movies yearly to all users free of cost.
How to get started with Einthusan?
Everyone can access Einthusan by visiting the website, but registration is required for an uninterrupted watching experience. Here are the following steps for Einthusan. tv login:
Go to Einthusan.com and tap on your preferred language,
The next page will show you a registration option where you can provide your email and set a password.
You can also get registered by using your Gmail account.
After registration, you can log in to your Einthusan account and enjoy the benefits.
Einthusan Premium Subscription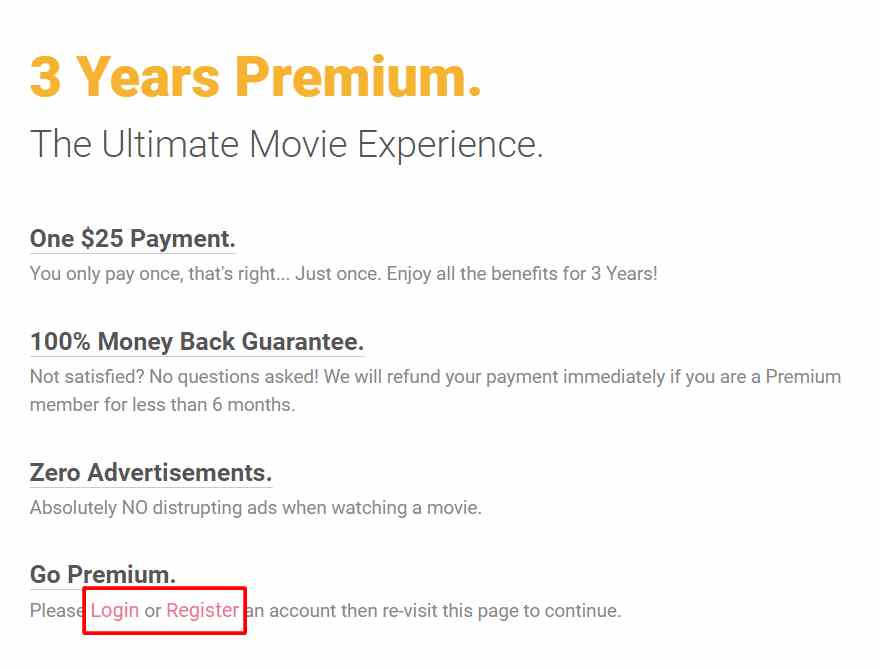 To get the ultimate video experience, you must subscribe to Einthusan Premium. The advantages of the Premium account are the following:
Zero advertisement and ultra HD movies,
Access to more movies as compared to free users,
You will never get blocked,
The downloading option will be available,
Using HTML5 Mode, you can Playback on Smart TVs, AppleTV, GoogleTV, Xbox One & PS4.
The Einthusan team will prioritise your queries and emails,
Your comments will have a golden crown,
You can enjoy these benefits for three years by paying only 25 dollars at a time. According to their website, they will also refund the payment within six months of your premium subscription if you are unsatisfied.
Top 15 Alternatives of Einthusan
There are numerous competitors or alternatives to Einthusan. The top 15 alternatives available are mentioned below:
1. Yomovies
Yomovies features films from around the world, including Lollywood, Bollywood and Hollywood. This website has web series and movies of many genres and has a separate section for erotic movies.
2. YuppTV
On Yupp Tv, you can watch any movie or TV series in multiple languages, including tamil and Telugu. This is a very user-friendly website which also provides live Tv shows of different Indian channels, and it also has a blog section where you can find interesting entertainment blogs. Yupp Tv's website connection is not secure.
3. Desi Cinema
Desi cinema has a vast collection of Bollywood and other movies in Hindi, Punjabi and Gujarati. This website also features South Indian Hindi dubbed movies. It has many similarities to einthusan.
4. Look Movie
Look Movie offers a large collection of movies and TV shows from several countries for users to watch for free. The site is well-designed and easy to use, making it a popular choice for movie lovers.
5. Sonyliv
Sonyliv is another video streaming website with thousands of movies in multiple languages. One thing I don't like about this website is that you have to log in before watching anything. However, it is a famous video-streaming website.
6. Hindilinks4u
Hindilinks4u has many movies and web series that users can watch for free in HD quality. It has all the famous content from Netflix, Amazon and Voot etc. This website can be accessed by anyone living in any country.
7. Yesmovies
Yesmovies is better than einthusan because it uploads movies in more than 30 languages and does not post annoying advertisements. It is free to use and provides HD-quality content without registration or login.
8. MX Player
MX Player has a great collection of original web series and movies, but the best thing about this website is they stream videos of stand-up comedians. Einthusan does not have a collection in Bhojpuri, while Mx player provides you with Bhojpuri movies.
9. TubiTV
Tubi Tv is the best online streaming website because of zero advertisements and free content. Their website layout is perfect and easy to navigate. Tubi Tv is also available as iOs and Android application.
10. Bolly2Tolly
Bolly2tolly is another alternative to einthusan; this online streaming website has many movies in seven languages, including English, Hindi, Tamil, Telugu and Malayalam. Bolly2Tolly does not categorise movies based on genres and languages, which is a major drawback.
11. SunNXT
SunNXT is another website which is popular for Indian TV shows online. It also uploads movies in a different language, but the collection needs to be more vast than einthusan. SunNXT can be subscribed to enjoy more benefits.
12. Vumoo
Vumoo is an online streaming platform that offers a wide selection of movies and TV shows for users to watch for free. Vumoo is a popular choice for movie enthusiasts, with a user-friendly interface and regular updates.
13. Tamil Dhool
Tamil Dhool is a website that provides users with a vast collection of Tamil movies, TV shows, and web series. The site features high-quality video and audio, making it a great platform for Tamil entertainment. A major disadvantage of Tamil Dhool is that it only has movies in the Tamil language.
14. Filmlinks4u
Filmlinks4u is a website that provides users access to various movies from different genres, including Hollywood, Bollywood, and regional cinema. The site offers high-quality video and audio; users can watch movies for free in multiple languages and genres.
15. YouTube
YouTube does not allow users to upload pirated content, but you will still find many Indian movies on this streaming website. Youtube also has a mobile application, and it is a famous and legit site. Searching for movies on Youtube is not the best option because you will face many issues.
FAQs–Einthusan
Where can I download the Einthusan app?
There is no application of Einthusan available.
What are the video qualities available on Einthusan?
Most videos, movies, and television shows are available in high-definition formats such as DVDRip, DVDScr, Bluray, 480p, 720p, 1080p, etc.
Do I need to log in before I can watch movies on Einthusan?
No, login is not compulsory to watch a movie or any other content on einthusan.
What is an Einthusan downloader?
What are the popular language films Available on Einthusan?
This Indian website has films in nine famous languages of India that, includes Tamil, Hindi, Telugu, Malayalam, Kannada, Bengali, Marathi and Punjabi.
Final Thoughts
Watching movies and web series on Netflix and other paid video-streaming websites is expensive and only affordable for some. People prefer to watch famous Tamil, Telugu, English, and Hindi movies for free and many websites are available for this purpose, including Einthusan.
But, for any reason, if you are unsatisfied with Einthusan, you can try other alternatives mentioned in my blog. So, what are you waiting for? Go and enjoy famous movies and Tv shows for free!