Introduction:
Have you ever found yourself in a situation where you desperately wanted to stalk your crush on Instagram but refrained from doing so for fear of being discovered?
What if there is a way to see someone's Instagram profile without letting them know?
Fortunately, many websites and applications are available nowadays that allow us to watch Insta stories and posts anonymously; Pixwox is also one of them. Pixwox lets users watch and download photos and reels in a few minutes. If you are interested to know more about this website, you must continue reading my blog because I will give a review of Pixwox and also tell you about the top alternatives of Pixowox.
What is Pixwox?
Pixwox is a website using a third-party tool that scrapes Instagram users' data on its website. This website is not directly affiliated with Instagram, but it allows you to anonymously see all the photos, reels, IGTV, and stories.
According to the Semrush website, 9.8 Million people visited Pixwox in March 2023. Instagram does not allow downloading anything from user profiles, although Pixwox also has a "download" feature that is the main reason for its popularity.
How to Get Started on Pixwox?
Pixwox is available for everyone worldwide, and it does not require registration. You can visit and use it anytime. Pixwox's website is user-friendly and easy to navigate. It has three sections; one is a search bar where you can write the name of any Instagram account. The other shows all the popular accounts of celebrities and influencers, so you don't have to search for them. The last section of the website features all the popular hashtags.
How To download IGTV videos on Pixwox?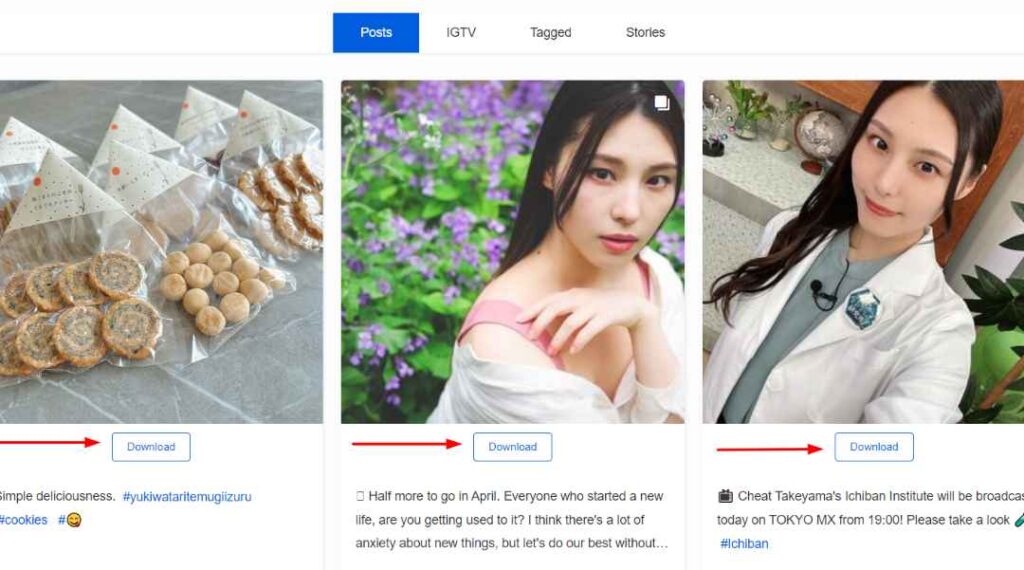 Downloading videos from Pixwox is effortless. Here is a step-wise guide to downloading IGTV on Pixwox:
Visit the Pixwox website using any browser,
Write the username of the profile you want to stalk,
Open that profile,
You will see four options, Posts, IGTV, Tagged, and Stories,
Click on IGTV and download your favorite reel.
Benefits of Pixwox
Pixwox has many interesting features that benefit users in different ways. Some of them are mentioned below:
Downloading videos and posts without registration.
Searching posts by writing hashtags.
Pixowox also has a separate section dedicated to famous Instagram Hashtags, including Life, Sport, Happy, Beautiful, Love, Fashion, Food, and Travel.
It is a free tool.
The quality of downloaded posts is in HD.
You can stalk the profiles of every Insta user anonymously.
Drawbacks of Pixwox
Using a third-party tool such as Pixwox always has numerous drawbacks, a few of them are the following:
Unwanted, annoying advertisement,
Pixwox has bad reviews on social media,
This website is violating copyright laws,
Is it a Legit Website?
Pixwox is used for watching and downloading Instagram photos and videos without the person's knowledge. However, it is important to note that downloading photos and reels without the owner's permission or proper licensing could violate copyright laws and result in legal consequences.
Top 10 Alternatives of Pixwox
Pixwox is not the only website that offers anonymous stalking or downloading features. There are several alternatives to Pixowx, the top 10 of them are the following:
1. Picuki
Picuki is another similar website offering the same features as Pixwox. This website is also available in the Russian language. Picuki has an option for users who do not want their data displayed on Picuki; they must fill up a form providing their email and username.
2. 4K Stogram
4K stogram is an advanced application and website available on desktop and Android. It allows users to download and see posts from Insta Accounts but has many unique features. These features include bulk downloads, auto-download, and account backup. However, these advanced features are not free.
3. Insta Stories
It is another website that allows user to hide their identity and watch stories and posts. Insta Stories also has a downloading feature like Pixwox, which is ideal for a stalker.
4. StoriesIG
According to the website of StoriesIG, It is also known as Dumpor. Anyone can view Instagram profiles while hiding their identity by using StoriesIG. The downloading feature of StoriesIG is more complicated than Pixwox because you have to paste a link to the post to download it.
5. Private Viewer
The private viewer is famous for many features, including watching and downloading posts of Instagram's private users. It also claims to increase your Insta followers and provides four packages such as 1000 followers for free, 5000 followers for $25, 10000 for $40, and 20000 followers for $75.
6. Storized
Storized is an application available on the app store that permits users to watch stories and posts of private accounts without the other person's knowledge. It's a great way to stay updated on what's happening in your industry or personal life without alerting anyone.
7. InStalker
InStalker is an innovative application with the primary feature of letting people "who viewed their profiles." Users will know who blocked them, stopped following them, and who is currently stalking them. This application is available on the Google Store with a 4.6-star rating.
8. InstaLooker
InstaLooker is another powerful tool that allows you to view Instagram profiles anonymously, perfect for those who want to stay incognito while browsing social media. You can easily check out the profiles of your competitors, influencers, or even your ex without leaving a trace.
9. Instore:
Instore is an Instagram downloader that allows users to save stories, images, and videos from any account for free. This application can also write descriptions and hashtags by uploading images.
10. InstaSave
InstaSave is a website allowing users to download Instagram videos and photos by simply copying and pasting the URL. It is a convenient tool for those who wish to save content for future use or share it with others. The website is easy to use and supports downloads in various formats.
Final Thoughts
Pixwox is a useful website for someone who is crazy about Instagram content and wants to save it forever. With Pixwox, users can easily download and store their favorite Instagram posts and stories in high quality without watermarks or restrictions. This website has many benefits; however, it is not legal because it is scraping data from an authentic social media app without user permission and violating copyright laws.
FAQs – Pixwox
How to download the Pixwox app?
Unfortunately, Pixwox is only available as a website, and no application of Pixwox is available on Google Store or the app store.
Does Pixwox cost anything?
No, Pixwox is a free website and does not cost anything.
Is there a limit to how many photos and stories I can download using Pixwox?
No, there is no limit to downloading photos and stories from Pixwox.
Does Pixwox reveal your information?
Pixwox does not reveal your information; you can use it anonymously.